Ryanair CEO O'Leary 'Screamed' at Staff Over Pilot Sickouts
(Bloomberg) -- Ryanair Holdings Plc Chief Executive Officer Michael O'Leary "screamed" at staff responsible for reducing pilot absences due to sick leave during a union dispute, an outgoing executive told a Dublin court.
The shouting at monthly meetings to discuss the issue was at times "intense," Chief Operations Officer Peter Bellew, who wants to move to EasyJet Plc, said Thursday in a Dublin court.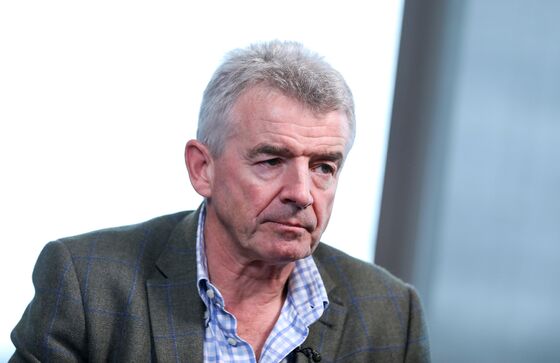 He's giving evidence over a disputed non-compete clause that Ryanair invoked when he agreed to a new job with the rival airline. Ryanair says Bellew has a stipulation in his contract that stops him working for a competitor for a year after leaving the company. Bellew denies the claim.
"I regret I didn't have more guts to stand up to Michael O'Leary at those meetings," Bellew said, who added that O'Leary's attitude was "good riddance" to pilots who had been consistently absent.
O'Leary accused Bellew of being "a lover, not a fighter," the outgoing COO said.
Ryanair declined to comment.
Bellew went on to say that he believed O'Leary wanted him out of the company after he was told he needed to improve his performance. The COO said he took that to mean he was a "dead man walking. It means you're in the departure lounge, on the way out."
O'Leary has said a "monthly" problem had emerged over Bellew not acting as instructed, while denying he wanted him to leave, and last week told the COO's lawyer that some of the events he had described "simply hadn't happened."
To contact the reporters on this story: Dara Doyle in Dublin at ddoyle1@bloomberg.net;Peter Flanagan in Dublin at pflanagan23@bloomberg.net
To contact the editors responsible for this story: Chad Thomas at cthomas16@bloomberg.net, Anthony Aarons