Ryanair Bumps Growth Goal to 50% Above Pre-Covid Levels
(Bloomberg) -- Ryanair Holdings Plc lifted its growth target to 50% over the next five years, as the Irish low-cost carrier expands at European airports where the Covid-19 pandemic has forced other carriers to pull back.
The shares rose the most in six months as Europe's biggest discount airline said it will aim to fly more than 225 million passengers a year by 2026. The new goal eclipses a previous target for a 33% increase from pre-Covid levels of 149 million, Ryanair said in a statement Thursday.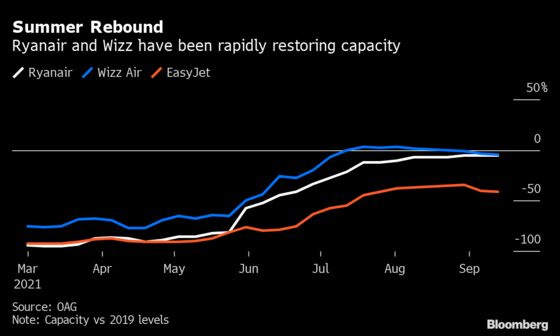 Chief Executive Officer Michael O'Leary is putting the carrier's strong balance sheet to work, expanding in places such as Italy, Scandinavia and Morocco as the carrier looks to take business from weakened rivals. Ryanair may increase its share of the European short-haul market to about 20% by 2025 from 13% in 2019, Citigroup analysts Sathish B Sivakumar and Manikandan Subash Chandran said in a note. This week, it said it will create 5,000 jobs over the next five years.
Ryanair expects to operate about 90% of its pre-Covid capacity this winter, although load factors are likely to be lower, O'Leary said in an interview in Dublin. The company said in July it would keep ticket prices low during the colder months to drive demand.  
"Next Easter we think will be very strong and that will set up what I think would be a very strong summer 2022," O'Leary said. 
Ryanair will face competition from Wizz Air Holdings Plc, which has similarly positioned itself for growth. The Hungarian carrier made an approach to low-cost rival EasyJet Plc that would have vaulted the combined company into Ryanair's ranks, Bloomberg reported last week. 
"We think the consolidation process in Europe is inevitable," said O'Leary. "I think if Wizz and EasyJet don't merge together, then it's inevitable that Wizz and EasyJet will be taken over, or merged with somebody else."
O'Leary suggested that British Airways' owner IAG SA or Air France-KLM could buy EasyJet, taking advantage of its dominance in London's second biggest airport Gatwick as well as in Paris. Wizz could be acquired by Deutsche Lufthansa AG to gain market-share in Eastern Europe, he said.
Major legacy carriers such as Lufthansa and Air France face financial and regulatory constraints. Both are still raising money to fix their balance sheets, and are obligated to limit expansion under terms of government bailouts received when the virus hammered global travel. Norwegian Air Shuttle ASA, Alitalia SpA and Portugal's TAP SGPS SA are among others that have scaled back amid restructurings.
Ryanair shares advanced 6.7% at 11:08 a.m. in Dublin, their biggest intraday gain since March. The stock is little changed year-to-date.
To reach its passenger goal, Ryanair will need about 650 to 700 planes -- more than the 600 the company has in its current fleet plan, said Daniel Roeska, an analyst at Sanford C. Bernstein. This would mean either ordering more Boeing Co. 737 Max jets, leasing some, or halting retirements of older-generation models, he said.
O'Leary has agreed to buy 210 Max aircraft, and this month ended talks with Boeing on a follow-on order for the higher-capacity Max 10 after failing to agree on pricing.