Moscow Adds Hospital Beds With Covid Cases Near Five-Month High
Russian Covid Cases Surge Over 10,000 for First Time Since March
(Bloomberg) -- New cases of Covid-19 in Moscow surged to their highest since mid-January and the Russian capital announced it will add hospital beds to deal with the pandemic and crack down on businesses that flout mask requirements.
Moscow reported 4,124 new cases on Wednesday while infections throughout Russia topped 10,000, the highest in more than three months, according to the government's virus response center.
The city will open up new hospital beds in response to the spike in cases, but a new lockdown isn't necessary, Moscow Mayor Sergei Sobyanin said Wednesday, according to Interfax.
The growing number of cases in Russia is unusual among countries that offer adults universal access to a vaccine, and raise questions about official statements the epidemic is on the retreat. Authorities face widespread skepticism toward domestically developed inoculations, undermining attempts to corral the pandemic.
"Our situation is better than in many other countries," President Vladimir Putin told 5,000 in-person attendees at the St. Petersburg International Economic Forum last week. "The current situation in Russia and St Petersburg allows us to hold such events without any particular risk of spreading the infection."
Hospitals in St. Petersburg and Murmansk were also adding beds to deal with the increased number of cases, according to local media reports this week.
Russia's seven-day average of new infections is at the highest since March 22. There were 10,407 cases announced Wednesday, still well below the peak of nearly 30,000 a day in late December.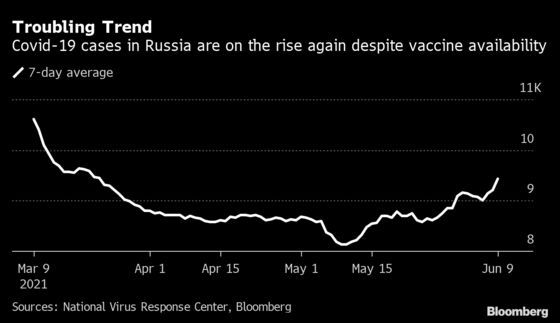 After a lockdown at the start of the pandemic last year, Kremlin has resisted strict measures to prevent Covid-19's spread in favor of policies aimed at keeping the economy open. The approach helped Russian growth outperform forecasts at a cost of one of the highest death tolls globally.
Moscow plans to crack down on restaurants, bars and shopping centers that ignore sanitary rules, handing out fines of as much as 1 million rubles ($14,000) for violations, RIA Novosti reported, citing city official Yevgeny Danchikov.
Russia has had over 270,000 deaths linked to Covid-19 through April, according to the Federal Statistics Service.
While Putin announced universal, free access to Russia's inoculations in January, and later declared that he'd been vaccinated, the campaign is proceeding slowly amid public suspicion of the shots.
A total of 15 million people have been vaccinated in Russia and another 3 million have had only the first shot since the effort began early this year, Health Minister Mikhail Murashko said Friday. About 12% of the population have received at least one dose, or less than the percentage of inoculated people in India, which has faced widespread shortages of the vaccine.
Putin ordered the government to develop a plan to offer vaccine tourism by the end of the month saying Russia had enough doses to share. The country earlier faced supply issues as it struggled to ramp up production of the vaccine.