Ruble Reopens With a Slump as Traders Price Increased Isolation
Ruble Quoted Lower Offshore Before Moscow Exchange Reopens
09 Mar 2022, 7:53 PM IST
(Bloomberg) -- The ruble slumped as local traders got their first chance this week to react to a fresh slew of negative developments for Russia, including curbs on one of the nation's key export earners.
Market turmoil unleashed by Russia's Feb. 24 invasion of Ukraine forced the central bank to shutter trading entirely on Friday. Since then, the U.S. and U.K. have banned Russian oil imports, Fitch Ratings warned that default now appears "imminent," and JPMorgan Chase & Co. and Bloomberg LP removed Russian assets from their indexes. 
The currency was down 11% at 117.7000 per dollar, taking its drop this year to almost 40% -- far the worst retreat globally. 
On top of currency controls last week that blocked foreigners from selling or collecting payments on local securities, the Bank of Russia temporarily banned banks from selling cash currency to citizens who don't already have foreign-exchange accounts. Last month, the monetary authority more than doubled its key rate to 20%.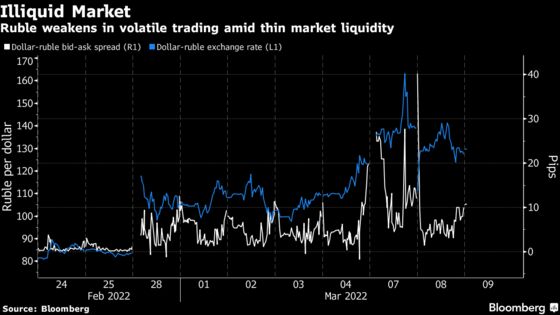 "The market clearly lacks proper liquidity," said Piotr Matys, an analyst at InTouch Capital Markets Ltd. "The ruble remains under selling pressure following another barrage of punitive measures." 
Offshore trading pointed to few actual transactions, with the indicative bid-ask spread at 7.4% of the ask price. The cost of hedging against further declines in the currency rose to the highest on record this week. 
"Russia's markets will have to grapple with the pricing of illiquidity, trade and financial sanctions," said Ray Choy, head of economics and research at Opus Asset Management Sdn Bhd in Kuala Lumpur. "The ruble can only go weaker."
Offshore, the ruble was shown down 8.5% at 139.3850 per dollar, more than 8% weaker in the week. 
In Asia, the ruble tumbled to an all-time low of 20.5718 per yuan, compared with just 13.2817 at the end of February. A number of Chinese banks suspended trading of the currency pair last week, with signs of distress showing up in the widest ever bid-ask spread.
While sentiment toward the ruble remains deeply negative, the currency's almost 40% slump over the past month and the soaring cost to short it suggest there's some prospect of at least a temporary rebound.
"From a speculator's view, shorting the ruble now could be akin to arriving at the party late," said Matt Simpson, a senior market analyst at City Index in Sydney. With Russia's central bank "reviving onshore trading, it's an act of confidence not ideal for a bearish scenario," he said.
Get Your
Daily Newsletter
Get market moving news, top news & compelling perspectives
---