The Rising Pacific Forces a Native Village to Move. Who Will Pay?
The Rising Pacific Forces a Native Village to Move. Who Will Pay?
(Bloomberg) -- Behind the 10-foot seawall that separates the Quinault Indian Nation village of Taholah from the Pacific, kayaks and canoes are scattered among mobile homes. They nestle against pickups and lie upside-down in overgrown yards, multicolored hulls to the sky. Once reserved for navigating the currents of Washington's Olympic Peninsula, the vessels now serve another purpose: emergency transport.
Storm surges propelled by higher seas, glacier melt and heavy winter rainfall have breached the riprap barrier often in recent years, forcing people to evacuate as saltwater came up through floorboards and doorways. Much of the community's infrastructure, already degraded by the salty marine air, has been jeopardized, including a smokehouse, courthouse, post office and the only store, the Mercantile.
"You can actually take a canoe sometimes from First Avenue over to the courthouse, because it's underwater," said Kelsey Moldenke, the 3,000-member nation's senior planner.
To survive, Taholah must move to higher ground.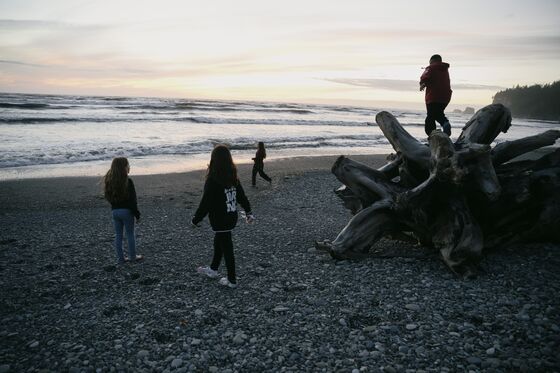 The Quinault Nation envisions the construction of a new village for the 660 residents of its largest community, about a half mile uphill from the current enclave by the Pacific. Members anticipate this new upper village would have 300 housing units, a K-12 school, police and fire stations, parks, trails, a cultural museum and other facilities, all more than 100 feet above sea level. Implementing this vision will cost approximately $150 million, which the tribe doesn't have.
Indigenous people around the world are calling on leaders meeting at the United Nations climate conference in Scotland this week to fulfill promises to cut carbon emissions and finance climate adaptation. Globally, native communities are some of the least responsible for warming, yet are hurt most by it, said Fawn Sharp, president of the National Congress of American Indians and vice president of the Quinault Nation, who is attending the Glasgow event.
American Indians and Alaska natives, who number about 3.7 million, are among the first U.S. residents forced to grapple so directly with climate change. Natural resources that they depend on are dissipating, and lands where they were forced to resettle in the 19th century are succumbing to the signal crisis of the 21st. With few policies, funds or agencies to help tribes relocate, many are left to accomplish the urgent task with piecemeal grants, donations and their own money.
At least three other tribes in coastal Washington alone, the Quileute, Hoh and Shoalwater Bay people, are moving inland. Other native communities, including the Biloxi-Chitimacha-Choctaw people in Louisiana and the Kivalina, Shishmaref, Shaktoolik and Newtok in Alaska are relocating or planning to, as sea rise, coastal erosion or melting permafrost threaten to sink or swallow villages.
"Indian country is at the forefront of communities in this country that are feeling the acute impact of climate change," said Bryan Newland, the U.S. Department of Interior's assistant secretary of Indian affairs. "They are in crisis mode."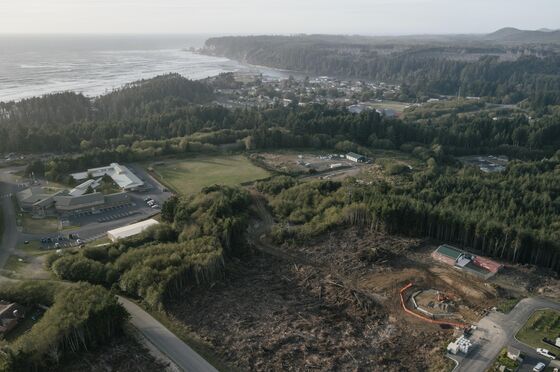 Native communities are among the first to explore managed retreat, according to Kyle Whyte, a University of Michigan professor of environment and sustainability.
"We're going to see others," he said, especially as greenhouse gas emissions send temperatures toward a tipping-point increase of 1.5 degrees Celsius, which the Intergovernmental Panel on Climate Change anticipates will instigate even more severe floods and drought. 
For the Quinault, time is running out. Taholah, about 150 highway miles west of Seattle, is nestled among dense evergreen forests, bounded by a rugged coastline and the mouth of the Quinault River. Flooding is expected only to worsen there. Coastal communities could experience up to a foot of increase in relative sea level as the region's snowpack declines 46% by midcentury, according to the University of Washington's Climate Impacts Group. The nearby Cascadia Subduction Zone fault line also threatens a tsunami, which scientists project could inundate the village with at least 40 feet of water. 
"When the waves exceed more than 10 feet in height, it is definitely a reminder that mother nature is in charge," said Larry Ralston, the nation's 63-year-old treasurer and a former police chief. "We could literally lose five, six hundred people in one night."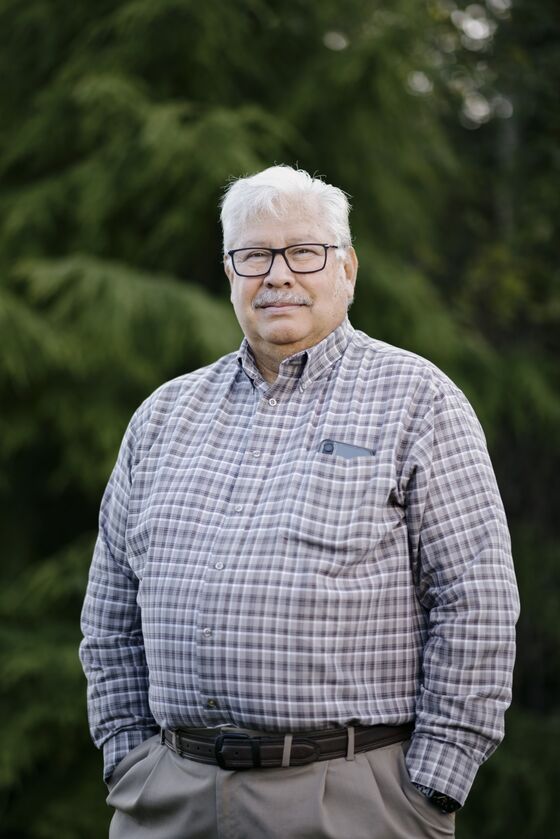 The Quinault Nation is one of the largest employers in Grays Harbor County. The nation runs a beach resort and casino, logging company and seafood processing plant. Even with these revenue streams, tribal leaders can't finance the entire Taholah village relocation project, which had its beginnings almost a decade ago.
In 2012, the tribe asked members what they would want in a new village in discussions they called "noskiakos," which means "the water comes."
Many asked for single-family homes and apartments that would replace their current houses, many of which are weathered beyond repair. Emergency services were also important. Some wanted to be able to see the water.
Their top priority was unanimous: the need to protect the oldest and youngest. Currently, about 175 elders and 150 children live in the lower village.
But before any of that, they had to buy the land where they would build.
Ancestors of the Quinault have lived by the Pacific for millennia, based on the discovery of projectile points carved from obsidian and chert that scientists believe are at least 12,000 years old, Ralston said. But in the 19th century, the tribe ceded half its territory in exchange for $25,000 when it signed a treaty with the U.S government establishing the Quinault Indian Reservation. Soon after, the government divided the 200,000-acre reservation into 80-acre allotments, selling them off to individuals. Over the past decade, Ralston said, the tribe has been buying back land in "pieces and chunks," to ensure the safety of future generations.
For this same reason, tribal members decided the first structure to erect in their new village would be the Generations Building, or WenɑsɡwəllɑʔɑW in the Quinault language. It would house programs for seniors, as well as early-childhood education and daycare. It would also act as an emergency shelter.
The 30,000-square-foot structure with crimson, gabled roofs opened this year. Its doorways flanked by poles with traditional art signifying hope for a community in peril.  On one, an eagle dives for salmon, signifying resilience. On the other, an elder sends up prayers for future generations. But, the building stands alone on 150 acres of bulldozed, rust-colored dirt.
"It's raw land," Ralston says. "We're starting from scratch."
Basic infrastructure must be laid out, including roads, water, energy and sewage systems, said Moldenke, the planner. That will cost close to $100 million, about two-thirds of the total expense. Until the tribe finds that, he said, the project is at a "temporary standstill."
According to the U.S. Bureau of Indian Affairs, about $5 billion will be required to help indigenous communities relocate over the next 50 years. At least $3.5 billion will be needed to support villages in Alaska alone. "It's an enormous price tag," said Newland.
In September, the agency announced $13.8 million in grants to help tribes plan for and adapt to climate change. The bipartisan infrastructure bill under consideration in Congress would include  $216 million to support tribal relocation projects, specifically. But Newland and other tribal leaders say that's not enough to support more than 570 federally recognized tribes in the U.S. Indeed, it's barely more than Taholah needs just to move uphill.
The Quinault Nation is looking into how it might use American Rescue Act dollars, and whether the Federal Emergency Management Agency might buy out flood-prone homeowners. Otherwise, residents might have to take on new mortgages in the upper village. That might not be feasible for many, considering that Taholah's median household income is $38,000 and 22% of families live below poverty level.
"We have to have the resources to implement and execute these very complex strategies if we're going to survive as a human race," said Sharp.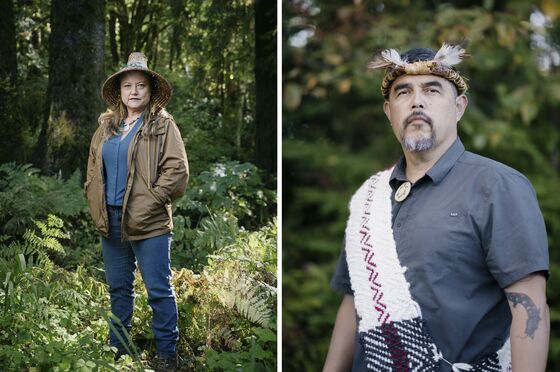 As former president of the nation, Sharp lobbied state officials for more than a decade to tax carbon emitters and invest the revenue in tribal communities. This year, Washington lawmakers passed the Climate Commitment Act, which sets a declining statewide cap on emissions, sells permits to polluters and mandates 10 percent of revenue for tribal projects.
But money from the program won't be available until 2023 and must be shared among 29 federally recognized tribes. Moving Taholah still could take years.
"If we had all the funds, it'd be happening right now," said Guy Capoeman, 52, president of the nation.
Leaders say the lack of support demonstrates continued neglect, despite America's legal obligation to safeguard tribes' treaty rights, lands, assets, and resources. "The federal government hasn't lived up to its trust responsibility," Capoeman said. "Tribes are due."
Millions of federal dollars have been spent on repairs to the village's failing seawall, which was first installed in the 1970s by the U.S. Army Corps of Engineers, but the tribe has yet to receive significant federal funding for its relocation.
Over the years, it's sought aid from agencies like the U.S. Department of Housing and Urban Development, which granted nearly $50 million to the  Biloxi-Chitimacha-Choctaw community to relocate from Louisiana's eroding Isle de Jean Charles in 2016. "They're the ones that can really do this project, but we have to use their guidelines, their projects, their rules," says Ralston. "We're just not in a position to do that."
Tribal leaders say it's essential to maintain their autonomy and lead these transitions for the wellbeing of their communities, as they did before the government forced them to resettle.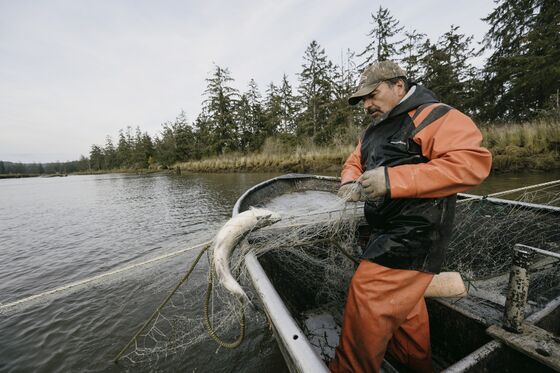 Prior to the 19th century, the Quinault lived in traditional longhouses along the Quinault River, traveling according to the season. They used dugout canoes hollowed from red cedar trees to fish for salmon, which their creator promised would sustain them. "He said, 'As long as you take care of your relations in the river here, they'll always be here and you will always be here with them,'" said Capoeman.
Not until the early 1900s, when the Bureau of Indian Affairs platted the lower village of Taholah on flood-prone estuary soils, did the tribe stop moving. Until now.
On a recent rare cloudless day in Taholah, a fisherman showed off his fresh catch of three Coho salmon, or "silvers," lured out of the water to present to a bereaved family. Only the waves pounding the rocky shoreline, calls of soaring bald eagles or the occasional scuffle among free-roaming dogs broke the silence.  
"This is like our garden of Eden," said Ralston.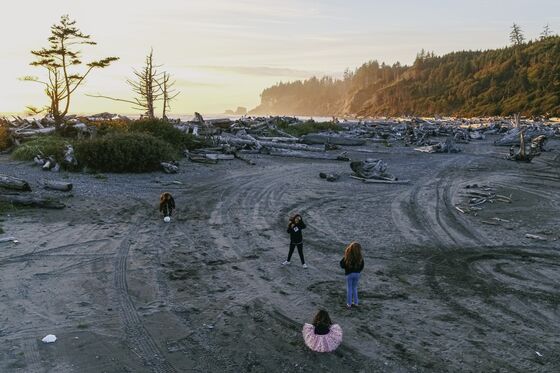 But the village of his youth, where he dug for razor clams and fished with his father, is dwindling. At least a half mile of beach has been eroded by the encroaching ocean, which has also washed away mountains of driftwood logs he used to swing on like a jungle gym. Now, he says, "Even at low tide, you can hardly see the sand."
The coldwater streams are drying up and 14 species of salmon and steelhead have been deemed endangered in Washington, according to the 2020 State of Salmon in Watersheds report. The tribe's once-thriving fishery has nearly disappeared.
"Our relatives are not coming back like they used to," said Capoeman, who remembers as a child watching boats glide toward the docks with their gunwales low from the weight of their salmon catch.
Now, it's time for his people to move, too. There are only a few thousand Quinault remaining, Capoeman emphasizes to those reluctant to go. Some elders prefer to stay in the village.
For Ralston, building the new village is an assurance that his legacy will live on through generations, equipped and ready to handle an ever-changing climate. "We've got to get these houses so that our children and grandchildren have some place safe to live," he said.
But the security of a new upper village of Taholah comes at a cost that can't be measured in dollars, he said. As the move uphill progresses, most of the existing village will be abandoned. And for the first time, the Quinault will live out of sight of the ocean and river that have sustained them for thousands of years.