Rio Defies Bolsonaro, Joins Cities With Vaccine-Passport Mandate
Rio Becomes Latest Brazilian City to Adopt Vaccine Passports
28 Sep 2021, 02:38 AM IST
(Bloomberg) -- Visiting Brazil's iconic Christ the Redeemer statue now requires proof of a Covid-19 vaccine, as Rio de Janeiro joins a growing list of Brazilian cities in cracking down on the unimmunized. 
Rio now requires residents and visitors to present so-called vaccine passports -- certification of having obtained at least one dose -- to enter gyms, theaters and many popular tourist destinations. 
The measures were pulled into the spotlight this weekend when a councilman from neighboring Minas Gerais state complained in a viral video that he was prevented from visiting the city's most famous statue.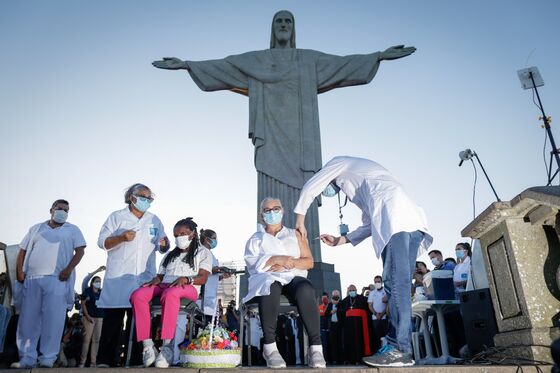 The new requirements set the city against the federal government on the issue. President Jair Bolsonaro stated at the United Nations General Assembly meeting in New York last week that he is against vaccine passports. "We support vaccination, however our government is against a sanitary passport or any other obligation related to the vaccine," he said.
Over 99% of Rio's adult population has received at least one Covid shot, making it one of the most vaccinated urban areas in Brazil. But like in other cities around the world, authorities here maintain that proof is needed to prevent a resurgence of the virus. 
The pandemic has claimed nearly 600,000 lives in Brazil, a toll only surpassed by the U.S., but local efforts to combat the virus have drawn mixed reactions. 
Such measures are sure to be tested in February, when the city's massive Carnaval celebrations are still scheduled to kick off, and again in September, when Rio holds the annual, gigantic "Rock in Rio" music festival.