Rich Nations Fail to Meet Climate Fund Target in Blow to COP
Rich countries have failed to meet their pledge of $100 billion a year for poor nations in the fight against climate change.
(Bloomberg) -- Rich countries have failed to meet their pledge of $100 billion a year of financing for poor nations in the fight against climate change, undermining the chances of success at the key COP26 summit this month. 
Under a blueprint for the spending released Monday, developed countries will only reach the collective target three years late in 2023. The report falls short of poor countries' hopes for the group to commit to mustering the funds on average between 2020 and 2025, despite initial shortfalls. 
The report, produced by Canada and Germany at the request of COP26 President Alok Sharma, has been closely watched as a sign of the commitment of wealthy nations whose greenhouse gas emissions are most responsible for fueling climate change. The shortfall is likely to complicate talks at the COP26 climate conference that kicks off in Glasgow, Scotland, in less than a week.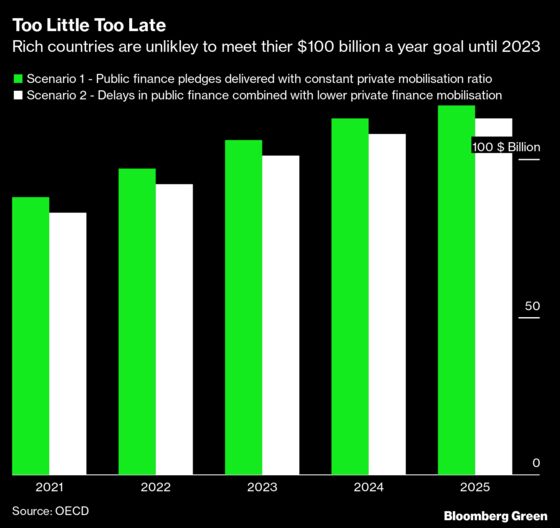 "I'm disappointed, as are developing countries," said Jochen Flasbarth, state secretary at Germany's environment ministry. Even so, "there is a lot of money already on the table, there is a lot of support, and it will increase, and it has to increase," he said.
Sharma said it was "highly likely" that the financing would hit a total of $500 billion over five years, based partly on modeling under conservative scenarios -- though the report stops short of committing to that amount. 
Making up for the initial shortfall in later years to reach a $100 billion annual average between 2020 and 2025 has been a sticking point with the U.S. It was among nations concerned about the ability of developed countries to collectively increase contributions in the future to compensate, people familiar with the matter said.
Under scenarios in the report, based on an analysis by the Organisation for Economic Cooperation and Development, financing would reach or surpass $100 billion in 2023 and approach $120 billion in 2025. The OECD estimates funding of $83-$88 billion this year, rising to $92-$97 billion in 2023. 
The delivery plan is "a failure," said Eddy Perez, international climate diplomacy manager with Climate Action Network Canada.
"As a group, developed countries' efforts remain highly inadequate both in terms of quantity, quality and accountability of support," Perez said in an emailed statement. "We can't afford more delay."
The road map does not include some additional pledges from developed countries that are still expected this year but were not published in time. For instance, Italy is expected to outline its new financial commitments in the coming days as part of the Group of 20 gathering in Rome.
"For more than 10 years they have been promising this climate funding would be provided and every year they delay and drag their feet," said Mohamed Adow, director of Nairobi-based think tank Power Shift Africa.
Although developed nations committed to the funding in 2009, there was never a coordinated approach on how to mobilize the private finance needed to reach that target. Some developing nations, such as Bangladesh and Indonesia, have said they can't step up their climate pledges without more money.