Retirement Millionaires Surge to Record in Roaring Market
(Bloomberg) -- The bull market is minting plenty of 401(k) millionaires.
The number of people with $1 million or more in their 401(k) or individual retirement account on the Fidelity Investments platform reached record levels last quarter, fueled by higher savings rates along with market appreciation, the fund company said in a report Thursday.
Some 233,000 savers held seven-figure 401(k)s as of Dec. 31, up about 17% from the prior quarter. Among IRA holders, 208,000 people made the club, a 14% increase. Investor savings rates have been trending higher in part because employers are automatically increasing their contributions.
Among people who have been in their 401(k) plan for 10 years straight, the average balance reached a record $328,200, topping the previous high of $306,500 from last quarter, Fidelity said.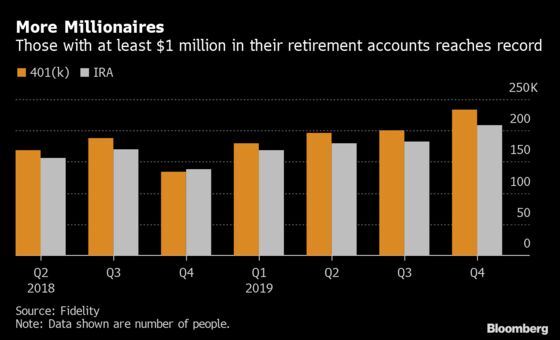 To contact the reporter on this story: Michael McDonald in Boston at mmcdonald10@bloomberg.net
To contact the editors responsible for this story: Sam Mamudi at smamudi@bloomberg.net, Josh Friedman, Melissa Karsh