U.K. Retail-Credit Outlook Boosted Ahead of Government Spending Spree
(Bloomberg) -- Credit investors are returning to the corporate issuers that dominate U.K. retail as a government budget announcement on Wednesday offered further financial relief for the Covid-battered sector.
Chancellor of the Exchequer Rishi Sunak unveiled plans for 5 billion pounds ($7 billion) of grants for eligible businesses in sectors including retail and hospitality in today's budget, as well as an extension of the business-rates holiday for those sectors. He also ruled out any immediate tax hikes or spending cuts.
The announcement was largely welcomed by fund managers holding bonds of U.K. corporates. Companies in the country's hospitality, leisure and retail industries were already beginning to show signs of improvement after taking a hammering in 2020, while the cost of insuring debt against default across most U.K. retail-linked bonds has also been falling since the start of the year.
"Credit investors will take some comfort from today's budget as short term measures are again supplemented to weather the immediate effects of the pandemic," said Fraser Lundie, Head of Credit at the international business of Federated Hermes.
Still, with the longer term outlook for the U.K. economy so uncertain, Lundie added that it was a question of assessing each credit on its merits. "Sectors most levered to the recovery, including hospitality and construction, remain a 'show me story'," he said.
Tatjana Greil Castro, co-head of public markets and a portfolio manager at Muzinich & Co. Ltd., which has $39 billion in assets under management, said that she sees a buying opportunity in U.K assets again particularly in travel, leisure and real estate-related sectors, and has started adding U.K risk back into her portfolios.
"The country seems to be ahead with regards to its vaccine rollout and U.K names are still trading wide so offer some potential value," Greil Castro said. "We've been focusing on the re-opening trade in the U.K and the budget confirms our optimism as the government doesn't pull support prematurely."
Retail and leisure industry credits have advanced since the start of the year. Bonds of pub company Stonegate, retailer Matalan Plc and fitness operator Pure Gym Group Plc were among the best-performing in the high-yield sterling market in February. Stonegate's bonds rose by 3 pence on the pound and are bid above their face value at 104 pence, according to data compiled by Bloomberg.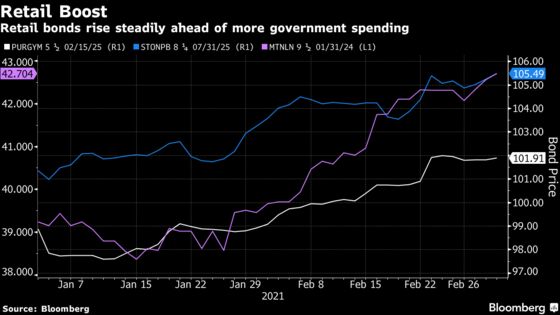 The cost of insuring Stonegate and Marks & Spencer Group Plc debt against default has dropped significantly since the start of the year. Stonegate's swaps fell by 47 basis points since early February, with the contracts now quoted at about 556 basis points.
"I think there's a bit of a Goldilocks scenario priced in," said Neill Keaney, a credit analyst at CreditSights in London. "Investors are looking to a reopening bounce but also continued support until the end of first half of 2020 at least."