Nazi-Looted Kokoschka Portrait Sells for a Record $20.4 Million
Record Paid for Magritte Masterpiece as Monet, Manet Passed Over
(Bloomberg) -- Alfred Flechtheim, a Jewish collector and art dealer, fled Germany in 1933 after being attacked in the Nazi press. Among his possessions seized was an Oskar Kokoschka portrait of a duke, Joseph de Montesquiou-Fezensac.
On Monday, the painting was bought by Gagosian Gallery's Andrew Fabricant for $20.4 million at Sotheby's in New York. The sellers were Flechtheim's heirs, after the painting was restituted to them this year by the Moderna Museet in Stockholm.
The Kokoschka record, and another for a Rene Magritte work, were the highlights of an otherwise uneven sale of Impressionist and modern art.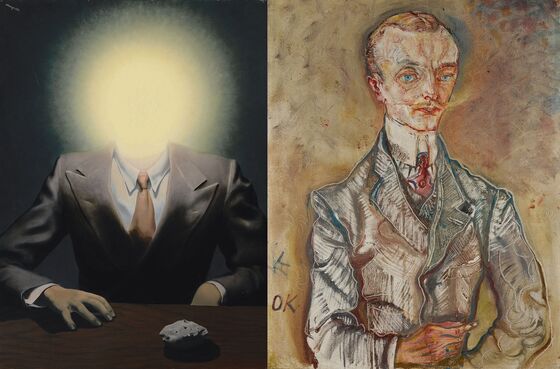 While the total raised was $315.4 million -- eclipsing the low estimate of $284 million and 17 percent more than a similar auction a year ago -- 16 of the 65 lots offered failed to find buyers. Left on the shelf were lesser works by Claude Monet, Fernand Leger and Edouard Manet.
Monday night's sale, attended by U.S. Commerce Secretary Wilbur Ross, who's known to collect Magritte and other Surrealists, is part of a week of semi-annual auctions in New York that kicked off Sunday with more than $1.8 billion of art up for grabs. Auction houses and dealers are trying to gauge buyer appetite against a backdrop of volatile equity markets and global trade tensions.
Still, it often comes down to individual lots.
"People don't like to buy second-rate Impressionist and modern works, but a record $26.8 million paid for Magritte shows that collectors want top works," said Pascal de Sarthe, a Hong Kong-based dealer. "The next few days will be different because of a shift in trend toward collecting postwar and contemporary art."
The 1937 Magritte -- "Le Principe du Plaisir" (Pleasure Principle) -- carried an estimate of $15 million to $20 million. Its final price of almost $27 million eclipsed the previous record for the artist of $20.6 million. Estimates exclude the buyer's premium, which is applied to the hammer price.
The biggest casualty of the evening was an abstract painting by American modernist Marsden Hartley that failed to sell. It was estimated at about $30 million and guaranteed by Sotheby's.
On Sunday, Christie's auctioned $279.2 million of Impressionist and modern art at its evening sale, below its low estimate of $305 million and 42 percent lower than a similar auction last year.
To contact the reporters on this story: Frederik Balfour in Hong Kong at fbalfour@bloomberg.net;Katya Kazakina in New York at kkazakina@bloomberg.net
To contact the editors responsible for this story: Pierre Paulden at ppaulden@bloomberg.net, Peter Eichenbaum, Mary Romano