Record Cases as Australia's Biggest State Relaxes Covid Rules
(Bloomberg) -- Australia's most-populous state reported a daily record of 1,742 Covid-19 cases Thursday, as the government loosens long-running restrictions ahead of the summer holiday period.
"We are continuing to see a rapid surge in cases in New South Wales with transmission occurring as a result of high numbers of people gathering for social functions in venues such as pubs and clubs," said Jeremy McAnulty from the state's health department, in a video update. "Some of these gatherings have led to super spreader events."
Still, in a state of more than 8 million people, only 192 people are hospitalized with Covid. Twenty-six are in intensive care and eight are ventilated.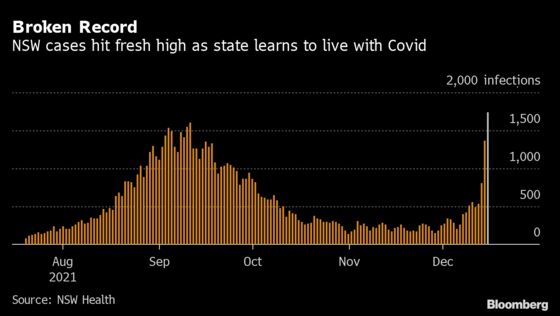 The state government on Wednesday eased restrictions on unvaccinated people and reduced the number of venues where masks are required, as the vaccination rate for people aged 16 and over reached almost 95%.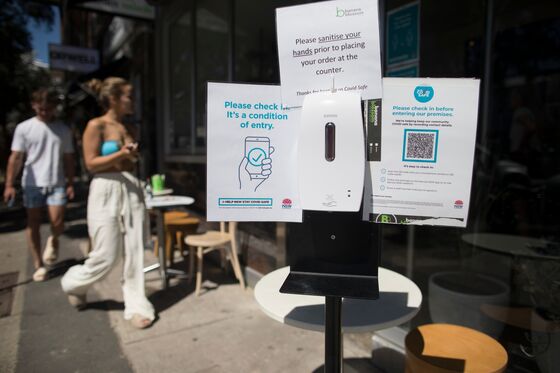 New South Wales also dropped check-in requirements in most places and limited the categories of people who will be required to isolate for an extended period after coming in contact with a positive case. 
Cases could reach 25,000 a day by the end of January, Health Minister Brad Hazzard warned on Wednesday. 
There are 122 confirmed cases of the omicron variant in the state -- the majority of which have been found in the regional city of Newcastle, about two hours north of Sydney, where there have been Covid-19 outbreaks at several pubs and nightclubs, McAnulty said.
More than one-third of the state's total daily cases reported Thursday were in the Hunter New England region, where Newcastle is located, an area that's home to about 920,000 people. NSW Health has urged people in the Newcastle area to cancel holiday parties in light of the surge in cases.