Raiffeisen's Russia Dilemma Writ Large as Ruble-Trade Fees Soar
(Bloomberg) -- Surging income from ruble trading in the first quarter hits at the heart of Raiffeisen Bank International AG's business dilemma as it considers the future of its Russian unit.
The bank booked its highest ever net fees and commissions income in the first quarter amid what it said was exceptionally high currency business in Russia after the Ukraine invasion, according to the Austrian lender's earnings statement on Wednesday. Net income was 442 million euros ($464 million), three times higher than analyst estimates, despite a jump in loan-loss provisions.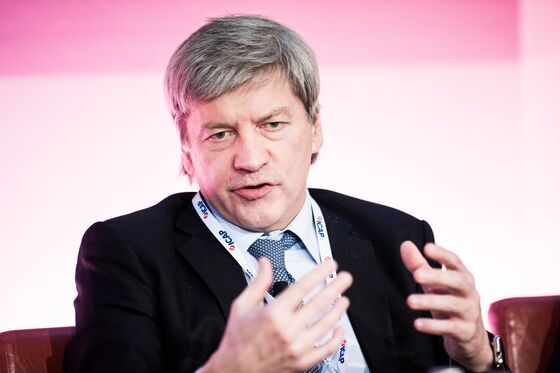 The bank is reaping the benefits from being one of the few Western banks to still have access to the ruble market at a time when a growing number of companies exit the country. At the same time, its joined peers in pledging to review its presence in Russia, including a possible sale. That would weigh on the bank, since Russia yielded a third of its net income last year.
"It is no secret that this process is not easy and depends not only on further political framework conditions in Russia, strict regulatory requirements, but also the obligations towards our customers and employees," Chief Executive Officer Johann Strobl said. "The interests of our shareholders also play a central role in this process." He warned the decision would take time. 
Click here to read this story in German. 
For a guide to reading Bloomberg German news, click here.
Raiffeisen's shares fell 0.9% as of 9:06 a.m. in Vienna after rallying 7% on Tuesday.
The dilemma hits at the heart of Raiffeisen's business model as a bridge between Europe's east and west. With roots in the rural credit unions of the 19th century, Raiffeisen pushed into the former Communist states even before the fall of the Soviet Union in the early 1990s, building up businesses from Kosovo to Kyiv.
Maintaining its presence isn't without risk: the bank set aside 319 million euros ($336 million) for future loan losses in the first quarter and raised its full-year guidance for provisioning to 1% of net customer loans, up from 0.4%. It also abandoned its ambitions for loan growth this year with Russian credit effectively frozen.
Investors will monitor Chief Executive Officer Johann Strobl's remarks at 2 p.m. in Vienna for any signs the bank is getting closer to a decision. A potential sale, if decided, would be complicated by international financial sanctions imposed on Russia. 
Societe Generale SA sold its unit to the country's richest man Vladimir Potanin.