Quibi Launch Is Dwarfed by Disney+ Rollout, But Tops All Others
(Bloomberg) -- At least 300,000 people were curious enough about new streaming service Quibi to download the app on its first day.
That's the second-best debut for a new streaming app, with about six times as many downloads as HBO Now had the day it launched in 2015. It's still far behind the most successful streaming rollout of all time, Disney+, which attracted 4 million users on its first day last November, according to a report by SensorTower Inc.
Quibi is one of the most unusual projects to come out of Hollywood in years. It tells stories in "chapters," no longer than 10 minutes each, and is available only on mobile devices. It counts some of the largest media companies as investors, including Walt Disney Co. and AT&T Inc.'s WarnerMedia.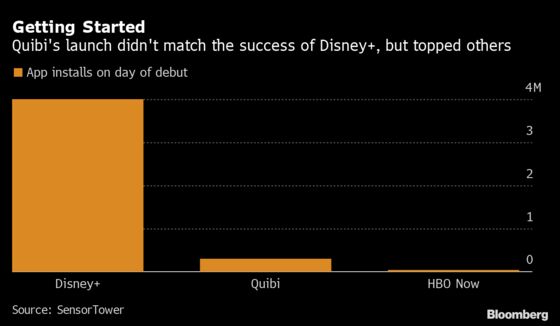 Quibi's co-founder Jeffrey Katzenberg, a movie mogul and Disney veteran, declined to name a target for downloads in the app's first year. An analysis by Bloomberg Intelligence analysts suggested the company needs 12 million users to break even, with some of its shows costing as much as $125,000 a minute to create.
Some of the most anticipated streaming apps have yet to launch. Peacock, from Comcast Corp.'s NBCUniversal, debuts later this month. And WarnerMedia's HBO Max, a more ambitious service than HBO Now, is coming out in May. They're all playing catch-up with Netflix Inc., the world's biggest paid streaming service.