Pound Sensitivity to Brexit Headlines Soars as Deadline Nears
Pound Swings as Traders Brace for a Breakdown in Brexit Talks
Pound traders are positioning for a choppy ride as trade negotiations between Britain and the European Union reach a watershed moment.
The currency suffered its biggest drop in close to three weeks after the EU's chief negotiator Michel Barnier said a deal wasn't guaranteed. The relative cost of hedging against a weaker sterling climbed to a seven-month high, according to a gauge of positioning and sentiment.
Traders are getting jumpy as the Dec. 31 deadline to reach an agreement nears. Many investors expect the two sides to strike a deal, which leaves the currency vulnerable to any setbacks that could upend that assumption.
"We haven't seen a move like that in the pound-dollar pair thus far, with the market ignoring most negative comments in recent weeks," said Jordan Rochester, a currency strategist at Nomura International Plc. "I don't think this leads to a sustained sell-off in the pound but it's definitely going to be choppy from here."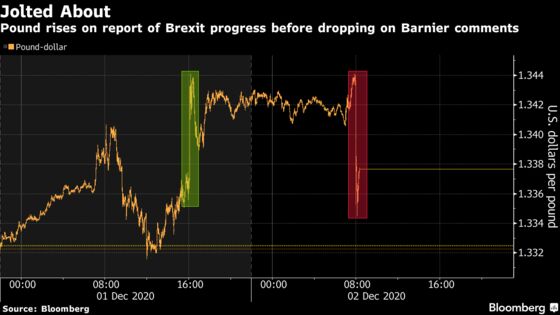 Barnier told EU ambassadors that the three main obstacles to a trade deal with the U.K. remain unresolved: a level playing field for business, access to British fishing waters and the way in which the overall agreement is enforced.
The pound fell as much as 1% to $1.3288, extending losses after The Times reported that France is pushing for a no-deal if Britain won't compromise. It pared its decline to around $1.3340 as of 4:30 p.m. in London amid broad dollar weakening, though still led Group-of-10 currency losses.
"It is is probably fair to say the market is underpricing a no-deal risk and the pound is increasingly tough to trade," said Stephen Innes, chief market strategist at Axi.
Sterling briefly matched a three-month high earlier in the session, with officials racing to strike a deal before the start of next week. The moves come after the pound advanced about 5% since late September on mounting optimism for a deal and broad dollar weakness.
Read More:
European Equities Retreat on Post-Brexit Trade Deal Concerns
To be sure, an agreement may still be close. People familiar with the EU's position said negotiators are trying to avoid talks running into next week to prevent them having an impact on preparations for an EU summit. A breakthrough announcement could drive the pound up at least 1% to above $1.35, said Ned Rumpeltin, head of foreign-exchange strategy at Toronto-Dominion Bank in London.
"Frankly, this deal is fairly bare-bones and comes down firmly on the hard-Brexit end of the spectrum," he said. "The pandemic has hurt the U.K. economy more than most. We do not think it will take very long for the market to shift its attention to these other lingering factors."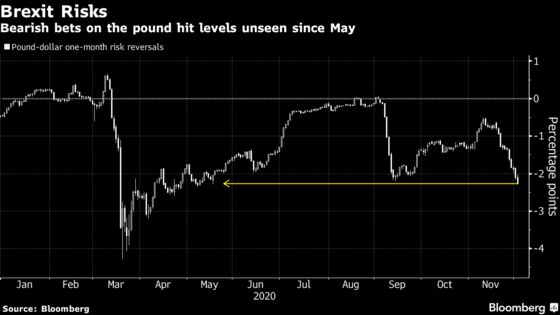 The pound may weaken to $1.25 -- about 6% -- if the U.K. and European Union fail to reach a trade agreement, according to a Bloomberg survey of nine strategists last month. For now, investors are positioned for more turbulence, with the cost of insuring sudden moves in the pound over the coming week rising to the highest in almost a month.
"If you can avoid U.K. exposure for the next few days, lucky you because it's going to be a yo-yo until Boris Johnson and co make the required moves," said Nomura's Rochester.