Pompeo Says 'More Sanctions to Be Had' to Pressure Venezuela
(Bloomberg) -- With Venezuelan President Nicolas Maduro clinging to power, U.S. Vice President Mike Pence plans to announce new actions against the country in a speech Monday in Bogota, according to an administration official.
The steps outlined by Pence may include forms of economic or diplomatic pressure by the U.S., a second official said. The officials declined to provide specifics.
Secretary of State Michael Pompeo also said earlier on CNN's "State of the Union" that more sanctions are possible on Venezuela without offering details on what measures the U.S. may be planning, as regional leaders prepare to meet in Colombia.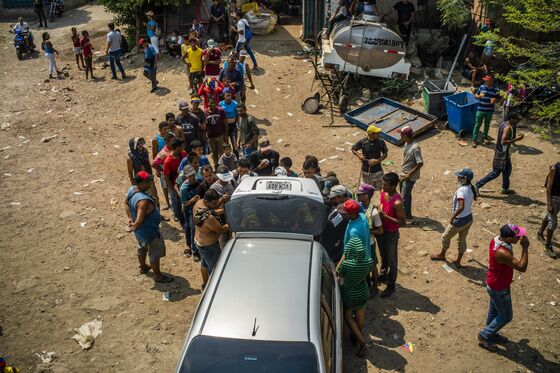 Pence's announcement will come more than a month after the U.S. recognized Juan Guaido as Venezuela's interim president. Yet Maduro hasn't ceded power, even as the Trump administration has effectively blocked his regime from exporting oil to the U.S. by imposing sanctions on Venezuela's state oil giant Petroleos de Venezuela SA.
As the Trump administration considers additional steps, Pence aims to reaffirm U.S. support for Guaido and call on Maduro to step aside, according to his office.
When Pence arrives in Bogota on Monday, he's expected to meet with Guaido and Colombian President Ivan Duque. He'll will deliver remarks at the Lima group and meet with families that fled Venezuela under Maduro.
Maduro showed his true colors by obstructing international aid from entering the country over the weekend, according to one of the administration officials. The U.S. is undeterred from bringing aid into Venezuela, and those efforts will continue, according to the official.
Just hours after attempts to deliver humanitarian aid to Venezuela failed, the country's opposition and U.S. allies suggested a more forceful multilateral move against Maduro.
In a press statement late Saturday, Pompeo called Guaido and the Venezuelan people "an inspiration to the world," and urged Maduro to let humanitarian aid flow into the country.
While Guaido "builds distribution networks for humanitarian assistance, Maduro blocks its entry and sends armed criminal gangs to attack the innocent civilians accompanying the convoys," Pompeo said in the statement.
To contact the reporters on this story: Alyza Sebenius in Washington at asebenius@bloomberg.net;Hailey Waller in New York at hwaller@bloomberg.net;Ben Brody in Washington at btenerellabr@bloomberg.net
To contact the editors responsible for this story: James Ludden at jludden@bloomberg.net, Tony Czuczka