Poland Won't Tame Inflation at All Costs, Central Bank Chief Says
Poland Won't Tame Inflation at All Costs, Central Bank Chief Says
(Bloomberg) -- Poland has room to raise borrowing costs further, central bank Governor Adam Glapinski said, adding that future rate moves will ultimately be determined by incoming policy makers. 
Glapinski said on Wednesday that he would favor at least one more rate hike of 50 basis points, arguing that benchmark could "safely" end the tightening cycle at 3% or even 4%. 
He spoke a day after the central bank hoisted the benchmark by 50 basis points to 2.25%, its fourth consecutive monthly hike and the first in the world in 2022.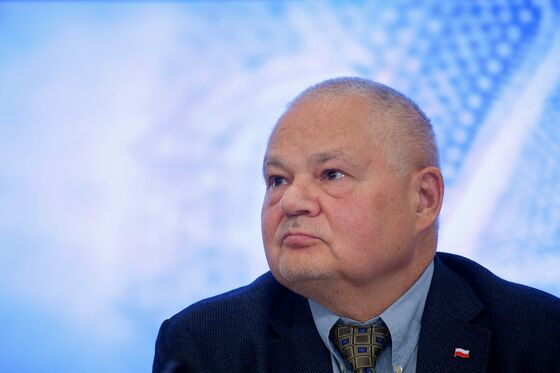 "An interest rate of up to 3% will not cause any negative effects on the economy," Glapinski told a news conference in Warsaw. "Any hike will cause a slowdown in economic growth, however, to a small extent. It's medicine that also has negative effects."
Glapinski, who resisted calls to start raising rates for most of 2021, has faced mounting criticism from the opposition for letting inflation surge to its highest in more than two decades. 
He's seeking reappointment for a second, six-year term in the middle of this year.
The governor pivoted in recent months, warning just last week that spiraling inflation could become more permanent and peak above 8% around mid-2022. 
Glapinski said he would urge policy makers to stick with the current pace of rate increases in 50 basis point increments, although they may tighten less frequently. 
Two members of the 10-person Monetary Policy Council -- Jerzy Kropiwnicki and Eugeniusz Gatnar -- will be replaced before the next meeting in February. The terms of a total of seven panelists will expire by the end of March.
Surging prices are also turning into a major headache for the ruling party, which backed Glapinski for the job. The government has cut taxes on fuels and gas and is offering subsidies for low-earners against rising energy costs.