Poland's Kaczynski Optimistic Tensions With EU Can Be Resolved
(Bloomberg) -- Poland's de facto leader, Jaroslaw Kaczynski, said he was optimistic the long-running conflict with the European Union over the rule of law will eventually be resolved, adding that the country needs to remain in the bloc.
"I'm optimistic about the final outcome," Kaczynski told Polish Radio 24 on Wednesday. "The history of the EU is complicated, very complicated, but generally speaking, our presence in the EU is very much needed for our future, for the future of Poland and Europe." 
The unusually conciliatory tone from the country's most powerful political figure came hours after the EU won the right to wield tough new powers that could deny Poland and Hungary billions of euros of funding for violating democratic standards. 
The comments were notable coming from Kaczynski, who has spearheaded a fight against EU institutions since the party he leads, Law & Justice, returned to power in 2015. The EU has slammed the government's sweeping judicial reforms, calling them out of line with the bloc's standards.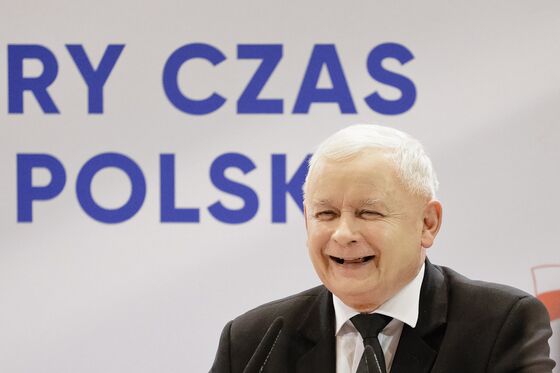 The years of disputes have already made a dent in the country's financial position. Last year the EU's top court hit Poland with a record 1 million-euro ($1.1 million) daily fine, while 36 billion euros from the bloc's pandemic stimulus has been frozen. Law & Justice's support has been slipping ahead of elections next year.   
Kaczynski has a history of incendiary remarks about the EU. Last year he said that Germany is exploiting the 27-member bloc to build a federal European state that would limit the sovereignty of its members. 
His change of tone follows a Law & Justice proposal last week to reverse some of the judicial changes in an effort to release the bloc's pandemic aid.
Wednesday's ruling prompted Justice Minister Zbigniew Ziobro to blame Prime Minister Mateusz Morawiecki for what he described as his "historic mistake" in agreeing to grant the EU the power to withhold budget funding. The open display of animosity has exposed years of tensions between the premier and Ziobro, who leads a junior party in the coalition and has taken an increasingly confrontational stance toward the EU.
Kaczynski said he was surprised by the justice minister's public criticism of the government policy.
"This event may be discussed, for example, within our coalition, the government, but I am disappointed that such statements are made publicly," he said.