Poland Holds Rates Near Zero as QE Favored to Fuel Recovery
Poland Keeps Rates at Record Low as QE Favored to Fuel Recovery
(Bloomberg) -- Poland kept borrowing costs unchanged as quantitative easing, rather than negative interest rates, remains the preferred tool to buoy Poland's economy.
The benchmark interest rate was left at a record-low 0.1% Wednesday, in line with all analysts' expectations. The decision also reflects a dominant view among the central bank's 10-member Monetary Policy Council showing little appetite to pull already record-low borrowing costs below zero. The zloty remained weaker against the euro.
"The recent comments of the majority of policy makers supported our scenario of no interest-rate changes in Poland until at least 2022," ING Bank Slaski said in a report to clients. "The easing of monetary policy will focus on the continuation of asset purchases, which will stabilize the debt market."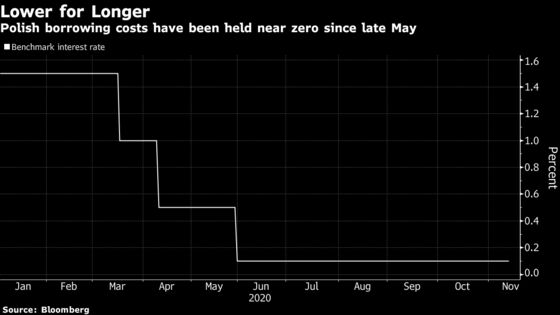 The central bank stuck to its recent wording in a post-meeting statement, saying that it will continue its open-ended quantitative-easing program, that its policies to date have helped stabilize inflation and that they mitigated the negative economic consequences of the coronavirus pandemic.
It also repeated its warning about the zloty, whose lack of a "significant and longer-lasting" adjustment to ultra-lax monetary conditions could hinder the recovery.
While a 7.7% quarterly rebound in gross domestic product between July and September helped offset much of the slump that resulted from the spring Covid-19 lockdown, Poland's economy remains on track for its worst year since communism collapsed three decades ago. The central bank said on Wednesday that it expects a contraction in the fourth quarter, compared with the previous three months.
"The fourth-quarter slowdown is set to be much smaller than what we saw in the second quarter, so there is no need for further actions by the MPC now," said Monika Kurtek, chief economist at Bank Pocztowy in Warsaw. "The most likely scenario is steady rates for at least the entire next year."
Read more:
Near-Zero Polish Rates 'Optimal' for Recovery and Shouldn't Move
Potential Benefits From Polish Negative Rates Are 'Hard' to Spot
Polish Rate-Setter Sees No More Cuts Even if Recession Drags On
The health crisis is worsening as the country's total coronavirus cases topped one million on Wednesday, further jeopardizing the recovery.
Central bankers underlined that they see a further deterioration in economic conditions in the coming months as consumer confidence sinks. The bank cut its GDP projections for 2021 last month.
"It's become clear that the worst is far from over," MPC member Grazyna Ancyparowicz said in an interview in October. "The cuts were deep enough, yet take a while before their effects are passed on to the real economy. Additional easing wouldn't make any sense."
And more here:
Polish Central Banker Warns Sub-Zero Rates May Violate Law
Poland's Biggest Rate Hawk Hopes Benchmark Won't Go Below Zero
Polish Central Banker Warns More Monetary Easing May Be Needed
The central bank slashed rates by 140 basis points in the weeks after the virus struck and has purchased bonds equivalent to 4.6% of GDP. Even so, economists at PKO BP call the response to the latest wave of the pandemic "muted."