Philippines Adds to Global Debt Binge With Another Bond Deal
Philippines Starts Marketing Dual-Tranche Dollar Bond Offering
(Bloomberg) -- The Philippines is jumping back into strong credit markets with what would be its second dollar bond this year, as it raises funds to counter the economic impact of the pandemic.
The proceeds from the benchmark-sized offering will be used for general purposes including budgetary support, according to a person familiar with the matter who's not authorized to speak about the matter and asked not to be identified. For more details click here.
Asian borrowers are making the most of more positive sentiment toward risk assets sparked by progress toward Covid-19 vaccines and talk of more stimulus in countries including the U.S. Bond sales from Asia ex-Japan issuers have surged to an all-time high of $332 billion this year, according to data compiled by Bloomberg.
"The Philippine government is taking advantage of a market coming off one of the best months ever for emerging-markets credit performance to opportunistically issue at attractive levels," said Todd Schubert, head of fixed-income research at Bank of Singapore Ltd.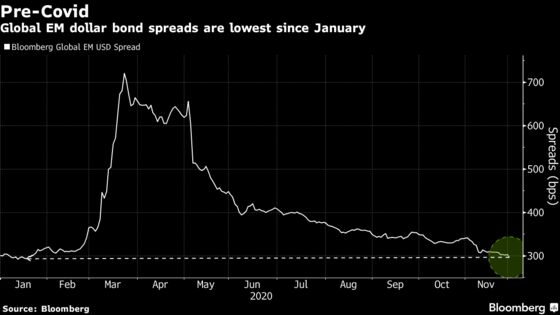 Spreads on global emerging-market dollar bonds have tumbled to 296 basis points over U.S. Treasuries from as high as 720 basis points in March, according to a Bloomberg Barclays index. The debt returned 3.1% in November, one of its best months since 2010, the measure shows.
Philippine Treasurer Rosalia de Leon declined to comment because the deal is currently in the market.
Virus Hits Philippines Outlook Most Across Southeast Asia: Chart
The country, which faces a record budget deficit this year, raised $2.35 billion from the international bond markets in April as the pandemic spread across the world.
The nation expects its shortfall to climb to as much as 1.8 trillion pesos ($37.5 billion) this year, or 9.6% of gross domestic product, as it boosts spending to help an economic recovery. It's turning to the dollar bond markets with the offering of 10.5-year and 25-year bonds even after it scrapped a plan to sell yen-denominated debt earlier this year, when it said that declining domestic borrowing costs could support its fundraising.