Philip Morris Influencer Tobacco Ads on Social Media Under Fire
(Bloomberg) -- A modern-day loophole has let posters on Facebook, Instagram, Twitter and Snapchat advertise tobacco products despite the sites' own policies against it: social media influencers.
In a letter sent to the four social media giants' top executives, a group of anti-smoking organizations called on the networks to stop letting influencers promote products like Philip Morris International Inc.'s smokeless IQOS device.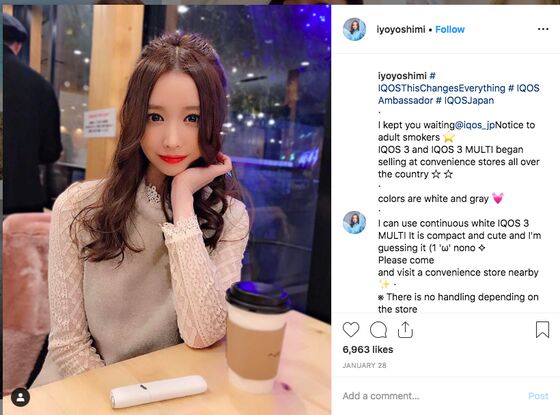 "Immediately remove all content that promotes #IQOS or any tobacco product and features an explicit paid disclaimer," urged the letter, signed by Campaign for Tobacco-Free Kids and more than 120 other organizations from 48 countries. The letter, dated May 17, also asked the platforms to suspend a list of users that it says have repeatedly posted paid or sponsored content promoting Philip Morris products.
When asked about the letter, the company noted that some content that tags #IQOS originates from third parties, not Philip Morris, and even in countries where the device isn't sold. It also said that when it learned one of the influencers promoting its product in Russia was 21, instead of 25 or older like its internal rules dictate, it immediately acted.
"The simple fact is that digital channels form an important part of our efforts to inform men and women who smoke about the existence of better alternatives to cigarettes, and to help them make informed decisions," the company said in an emailed response. "By trying to pressure us and digital channel owners to effectively block these channels and to prevent adult smokers from accessing information about better choices, Campaign for Tobacco-Free Kids is in effect perpetuating the consumption of tobacco in its most harmful form: combustible cigarettes."
The letter comes shortly after sister company Altria Group Inc. said it will start marketing IQOS in the U.S., beginning in Atlanta. Tobacco-device startup Juul Labs Inc., which Altria has invested in, has also faced steep criticism for youth adoption of its vaping device. Altria has said it doesn't want to encourage underage use and has advocated to raise the minimum age for tobacco use to 21. Philip Morris has said IQOS will help it "unsmoke" the world by converting adult cigarette smokers to a less risky alternative.
Altria's division, Philip Morris USA, "has no plans to utilize social media influencers for IQOS," the company said in an emailed statement. The company is "committed to marketing these products to adult smokers, while limiting reach to unintended audiences such as non-smokers and youth."
Twitter said in an email that it prohibits the promotion of tobacco products and is in contact with the Campaign for Tobacco-Free Kids. The company said it supports FTC efforts to restrict online tobacco advertising, including in "new and emergent" ways. However, Twitter said it doesn't currently prevent influencers from promoting tobacco products on its platform through any deals they may have reached independently.
Snap Inc. said that its policy bans ads that promote cigarettes, e-cigarettes, tobacco and other "nicotine-related products." The policy also applies to influencers, the company said.
Facebook and Instagram didn't immediately return requests for comment.
As IQOS launches in the U.S., Philip Morris and Altria also face pressure from six U.S. public health and medical organizations, which wrote a May 14 letter to the U.S. Food and Drug Administration asking it to revoke the authorization allowing IQOS to be sold in the U.S., should it become aware of any marketing that reflects strategies Philip Morris has used in other countries that it says were aimed at the "broadest range of consumers." Those ads, the organizations said, are "entirely inconsistent with a marketing focus on adult smokers."
To contact the reporters on this story: Tiffany Kary in New York at tkary@bloomberg.net;Kurt Wagner in San Francisco at kwagner71@bloomberg.net
To contact the editors responsible for this story: Anne Riley Moffat at ariley17@bloomberg.net, Jonathan Roeder