Pfizer Has Best Month in 30 Years After Leading Vaccine Race
Pfizer Set for Best Month in 30 Years After Leading Vaccine Race
(Bloomberg) -- Pfizer Inc. closed out November trading with its best monthly advance in 30 years, as renewed virus fears revive the market's focus on vaccine makers. 
The stock rose 2.5% to $53.73 in New York trading on Tuesday, ending the month with a 23% gain -- the most since 1991. Pfizer is up about 46% so far this year, with its dividend boosting the total return to more than 50%. 
The last time Pfizer was this hot, George H.W. Bush was the U.S. president, 10-year Treasuries yielded more than 7.8%, AIDS was the virus striking fear in the public and Pfizer's promising new drugs were Procardia to ease angina and Diflucan to combat fungal infections.
The company behind one of the world's best-selling vaccines was spurred to new heights this week as investors contemplated an ongoing need for shots and boosters to counter the new omicron Covid-19 variant. Pfizer is racing to test its current vaccine against omicron and, if needed, could develop a new shot within 100 days, according to Chief Executive Officer Albert Bourla.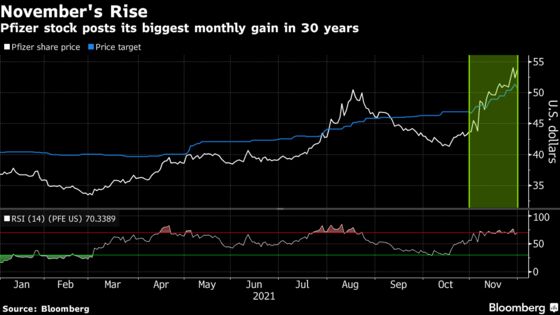 The pharmaceutical company and its partner BioNTech SE were the first to secure a U.S. authorization for a Covid-19 vaccine. Pfizer is also awaiting a regulatory update on a pill to treat early cases of the disease. So far the oral antiviral medicine appears to work better than a similar therapy from Merck & Co.
Watch: CEO Peter Bourla Discusses Omicron on Bloomberg TV
Retail traders were net buyers of Pfizer on Tuesday, according to Fidelity data. The renewed enthusiasm for Pfizer comes after the day-trading crowd sold off their vaccine holdings in October.