Oxford Street Plans Climbable Hill to Lure Back London Shoppers
Oxford Street Plans Climbable Hill to Lure Back London Shoppers
(Bloomberg) -- Oxford Street, the U.K. capital's main shopping district, plans to erect a 25-meter (82 feet) climbable hill overlooking London's Marble Arch landmark as part of an attempt to attract shoppers back when the lockdown ends.
Dubbed "Marble Arch Hill," the scaffolded structure, decorated with grass and trees, will overlook Hyde Park and the western entrance to Oxford Street. It will operate for six months starting in the summer, featuring a viewing platform and inner rooms for events and exhibitions, according to Westminster City Council.
The local authority for London's West End revealed the plan Tuesday in an attempt to revive Oxford Street and surrounding areas, which have suffered a slump in customer visits due to Covid-19 restrictions.
While London's Oxford Street attracted about 200 million visitors a year in pre-Covid times, foot traffic has plunged amid the decline in tourist travel and consumer reluctance to visit busy locations, even when restrictions have been eased. At least a fifth of the stores on Oxford Street are permanently shut down and will not reopen after the lockdown ends, according to data from the New West End Company, a lobby group for businesses in the area.
The most recent high-profile shuttering in the shopping district is Debenhams, which is closing its flagship outlet on Oxford Street. While some closures are a result of longer-term redevelopment plans, ahead of the opening of a major new train service, the Elizabeth Line, in 2022 there are growing fears that without collective action Oxford Street could lose its allure to retailers and shoppers alike.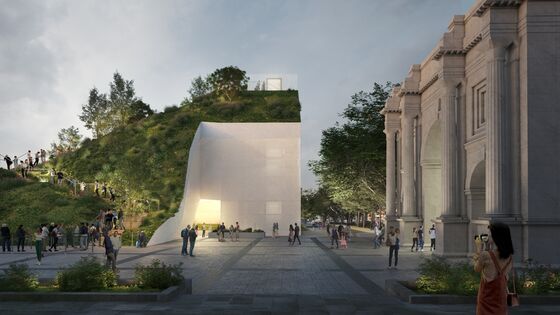 The local authority is committing 150 million pounds ($208 million) to the plan, Melvyn Caplan, deputy-leader of the council, told Bloomberg in an interview. Other stakeholders, such as landlords, are also contributing.
In addition to visitor attractions, such as Marble Arch Hill, the Oxford Street District Plan also includes measures to improve the public realm with more pedestrian space, pop-up parks, open air theaters and other playful cultural and leisure activities. In the longer term the district will embrace initiatives to reduce traffic congestion, improve air quality, repurpose redundant retail space, and encourage a wider range of businesses and innovative startups into the area, reducing the reliance on retail.
Investment in the district will be focused on Marble Arch, Oxford Circus and Tottenham Court Road, the three main transport hubs on Oxford Street.