UniCredit Weighs Russia Exit as Bankers' Pull-Back Gathers Pace
(Bloomberg) -- UniCredit SpA is considering exiting its operations in Russia as part of an urgent review of the business, signaling an accelerating financial pull-back from the nation as a consequence of the invasion of Ukraine.
"No conclusions can be drawn overnight, but we will report soon with more detail," Chief Executive Officer Andrea Orcel said at a conference organized by Morgan Stanley on Tuesday. "Obviously we need to seriously consider the impact and the consequences and the complexity of disentangling a full bank from the country."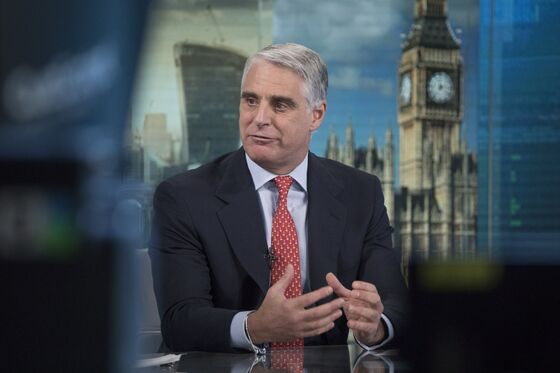 The Milan-based lender joins a growing list of European banks starting or seriously considering withdrawing from Russia in the wake of the invasion of Ukraine, with Deutsche Bank AG reversing course and announcing a pull-out last week. UniCredit is among European lenders with the biggest exposures to Russia, along with Austria's Raiffeisen Bank International AG and France's Societe Generale SA.
UniCredit has already said that in an extreme scenario where its Russian banking assets are wiped out, it would suffer a hit of about 200 basis points to its capital buffers, or some 7.4 billion euros ($8.1 billion). Orcel confirmed the bank's planned 2021 dividend.
UniCredit shares pared losses to trade down 2.1% at 10:48 a.m. in Milan on Tuesday.
What Bloomberg Intelligence Says:

UniCredit CEO Andrea Orcel's comments that it's considering exiting Russia as one of a number of options come as no surprise to us, in keeping with the lender's full exit from Turkey in 2021. The disclosed 200-bp maximum hit to CET1 would be manageable, though we suspect it would necessitate a paring of near-term capital-return plans.

-- Jonathan Tyce, BI banking analyst. For the full note click here.
UniCredit announced last year that it intends to return at least 16 billion euros to shareholders by 2024, and Orcel has pushed through changes including a management streamlining and exits from non-core businesses. The bank, Italy's second-largest, has said it's seeking mergers and acquisitions that boost shareholder value, but walked away from a prospective takeover of Russia's Otkritie Bank FC in January as the signs of conflict in the region multiplied.
Loans to customers of UniCredit's Russian unit amounted to 7.8 billion euros ($8.6 billion) at end December, while cross border exposure to Russian customers is about 4.5 billion euros. Orcel said that given the situation the bank would not invest "a penny more" in the country.
Moves by European lenders toward pulling out of Russia follow decisions by Wall Street peers to limit activity. Goldman Sachs Group Inc has said it plans to close operations there. Finance-industry titans are joining those in other sectors, including McDonald's Corp. and Coca-Cola Co., that have already said they'll halt business operations in the nation as the death toll rises in Ukraine and millions of refugees flee. 
"My number one job is to ensure the overall stability of our bank and our ability to serve our communities across Europe," Orcel said. Unwinding a bank that employs over 4,000 people and services more than 1500 corporate clients, "cannot and should not be done without careful consideration," he said.