Norway's Rate Hikes Are Being Locked and Loaded: Decision Guide
Norway's Rate Hikes Are Being Locked and Loaded: Decision Guide
(Bloomberg) -- Norway's central bank is poised to give a final update on plans for a wave of interest-rate increases before it actually starts delivering them in the richest Nordic economy. 
With the Norges Bank expected by economists to keep its monetary policy stance unchanged for a 15th month on Thursday, that announcement will be scrutinized for clues on how confident officials are to implement one hike per quarter in the coming year that they previously projected in June. The deposit rate is currently at zero.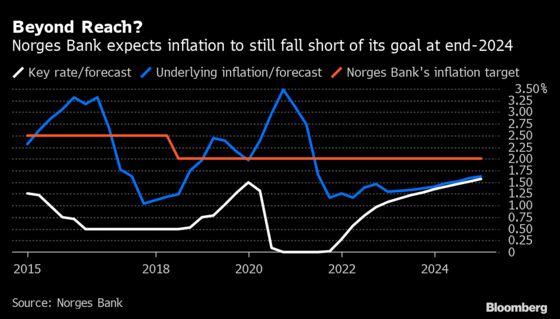 Such a signal would cement the Norwegian central bank's position as one of the most hawkish advanced-world monetary authorities. Policy makers there are looking to tame an economy with a recovery pace far outstripping their own forecasts, even though price growth has trailed estimates in recent months. 
Any tightening plans will also reveal the extent of officials' concerns on the prospect of another pandemic surge caused by the delta variant of the coronavirus. Just this week, such worries prompted New Zealand to hold off on a rate increase. 
"Some will point to the Delta variant spread, and wonder if this might stop Norges Bank," Kjetil Olsen and Dane Cekov, analysts at Nordea Bank Abp, the largest Nordic lender, wrote in a report. "We don't think so." 
Norwegian officials are focused on using interest rates as a primary tool for tightening after avoiding the need for unconventional tools such as sub-zero monetary policy. That approach was aided by the government's use of the country's $1.4 trillion wealth fund, the world's biggest, to support the economic recovery.
Norges Bank's stance contrasts with regional counterparts such as the European Central Bank or the Riksbank in neighboring Sweden, which don't see higher rates on the horizon. 
A consumer-driven rebound in Norway has emboldened the hawkish stance of policy makers. The economy expanded 1.6% in the second quarter, twice the rate they forecast in June, according to economists surveyed by Bloomberg. Industrial confidence strengthened to its highest level since 2007 in the quarter. 
Also backing an outlook for rate increases, Norwegian krone has been weaker than the central bank has projected as the worst-performing major currency in the past 3 months.
While the delta virus variant has prompted concerns of weaker economic growth for some of Norway's trading partners, the country remains resistant to further outbreaks. It replaced the U.S. last month as the new leader of the Bloomberg's Covid Resilience Ranking. 
Last week, the government said it would get one million extra doses of the Moderna vaccine through European Union cooperation, allowing it to complete full vaccination for all adults during the first two weeks of September.