Nigeria's Economy To Grow Less Than 2% in 2021, Says JPMorgan
Nigeria's Economy To Grow Less Than 2% in 2021, Says JPMorgan
The recovery of Africa's biggest economy from last year's coronavirus pandemic-induced contraction could be slower than previously expected.  
Nigeria's economy is likely to expand by 1.5% in 2021, JPMorgan Chase Bank NA analysts including Gbolahan Taiwo and Ayomide Mejabi said in an emailed note. That's after it shrunk 1.92% last year, the most since at least 1991, according to International Monetary Fund data.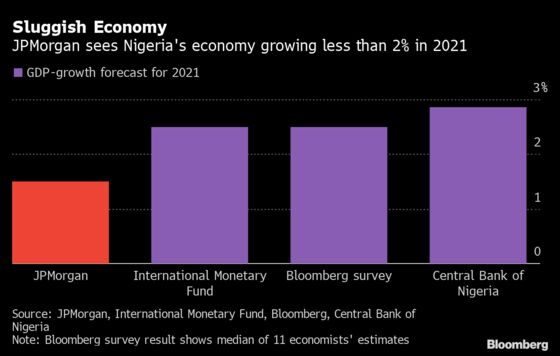 That's below the median estimate of 11 economists in a Bloomberg survey as well as the IMF and central bank's predictions. A "continued lack of foreign-exchange liquidity, underlying economic weakness, an emerging third wave of Covid-19 infections and a slow rollout of vaccines will likely slow the recovery process," JPMorgan said. 
Nigeria's central bank unexpectedly halted the sale of foreign exchange to bureaus de change and increased supplies to banks in July, though that measure hasn't helped ease the scarcity.