New Zealand Posts Record Calendar Year House Price Growth
(Bloomberg) -- New Zealand's red-hot housing market showed slight signs of cooling in the final quarter of 2021, but still delivered record calendar-year price growth and average values that exceeded a million dollars for the first time.
Values rose 1.9% in December from November to a record NZ$1,006,632 ($686,000), CoreLogic New Zealand said Wednesday in Wellington. From a year earlier, prices surged 27.6%, exceeding the 24.4% increase seen in 2003.
Historically low interest rates and a lack of new construction combined to send New Zealand residential property prices soaring last year. But tax changes impacting investors and regulatory adjustments instigated by the central bank are widely tipped to cool the market in 2022, as will a gradual tightening in monetary policy.
"While the changes clearly haven't impacted all borrowers immediately, they are likely to be felt more widely throughout 2022 as rising interest rates and diminishing affordability combine to reduce borrowing capacity," said CoreLogic NZ Head of Research Nick Goodall.
While monthly value increases continue to hover around 2%, the annual rate of growth dropped for the second month in a row after peaking at 28.8% at the end of October and easing to 28.4% in November.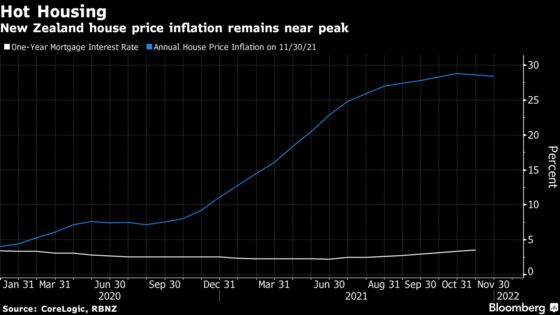 "Nothing can grow forever," said Goodall. "Low interest rates and the continued ability for most borrowers to secure finance were both key contributors to persistently strong demand for residential property. It must be acknowledged that both these factors are changing."
The Reserve Bank raised the official cash rate twice in the final quarter of the year and signaled in November it will need to tighten policy more quickly than previously expected.