New York, Northeast Get Quick Sunday Storm Before Super Bowl
New York, Northeast to Get Pre-Game Super Bowl Sunday Storm
(Bloomberg) -- A blanket of snow brought slick conditions to the Northeast U.S. on Sunday in the hours before the National Football League's Super Bowl kicks off in much warmer Florida. By nightfall, the fast-moving storm should be on its way out to sea.
As of 1 p.m., 3 inches (8 centimeters) had fallen on Central Park and 2.2 inches at both La Guardia and John F. Kennedy airports, while across northern New Jersey various reports of nearly 8 inches were recorded, according to the National Weather Service website. New York could get as much as 7 inches in total before the storm is over.
"We could still see upwards to another 3 inches in the city," said Dominic Ramunni, a weather service meteorologists in Upton, New York. "Things should start to wind down around dinner time."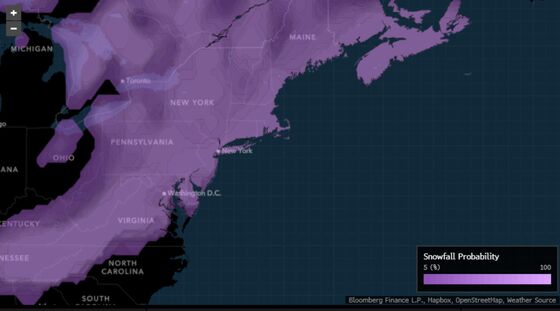 Sunday's storm comes on the heels of a system days ago that dumped 17.2 inches on Manhattan, tying up road, rail and air traffic across the Northeast. It will arrive in the hours before the Super Bowl between the Tampa Bay Buccaneers and the Kansas City Chiefs starts at 6:30 p.m. in Tampa, potentially under clear skies with temperatures in the 60s.
In the mountains of North Carolina, as much as 3 inches has already fallen as the storm moves north.
While the early part of winter was mild and marked by few storms, the larger pattern across the U.S. has shifted, and cold air is pouring into the central part of the country.
Earlier Sunday, wind chill warnings and advisories stretched from Montana to Indiana. The temperature had only reached -4 Fahrenheit (-20 degrees Celsius) in Chicago and -5 in Milwaukee, the National Weather Service said. Fargo, North Dakota, was -19 before dawn.
That cold could drift east and potentially set up another storm across the Northeast by the end of the week.