NYC Overhauls Gifted Programs to Counter School Segregation
(Bloomberg) -- New York City will end its gifted-and-talented education program, a major policy shift in the face of growing criticism that the nation's largest public school system is segregating its mostly Black and Latino students into the poorest-performing schools.
Mayor Bill de Blasio announced the overhaul on Friday, which calls for the city's Department of Education to implement a new accelerated program in all elementary schools starting with kindergarten in the fall of 2022. Students currently enrolled in the highly selective program will be unaffected.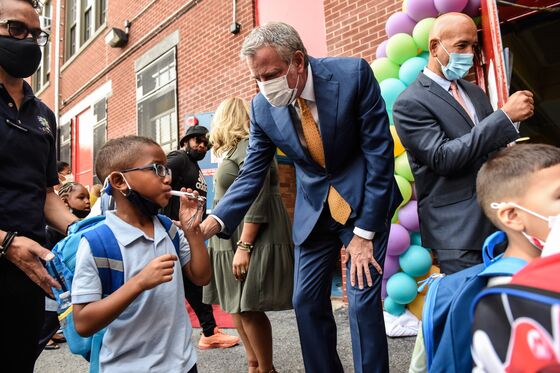 The move comes in the final months of de Blasio's time in office, even though the mayor had long pledged to tackle the racial inequities in one of the most segregated public school systems in the nation. The gifted-and-talented program is a highly divisive issue and any changes face pushback from parents and the mayor's successor.
"We are going to be ending something that I think was a mistake all along: a single test for four-year-olds that determines so much of their future" said de Blasio, speaking in a WNYC radio interview Friday. "We are going to reach tens of thousands more kids with accelerated learning."
Proponents argue it affords the most academically promising kids with an education their local schools don't offer. It also keeps more affluent families in the city's public school system, instead of having them go to private school or move to the suburbs. In doing so, they say, it keeps necessary tax dollars in New York and helps improve schools across the system. 
The new plan includes eliminating the exam given to four-year-olds that admits about 2,500 kindergarteners per year to the gifted-and-talented program, which critics have said disadvantages Black and Latino students. Under the new plan, the city will screen all third graders by subject area for eligibility, but they will remain in mixed level classrooms.
The city also will expand the number of schools with accelerated programming –- from 80 to all 800 schools with elementary grades -- train all of its 4,000 kindergarten teachers in this type of instruction and hire additional educators in areas with historically little to no gifted-and-talented programming.
Critics say de Blasio's actions to make New York City schools more equitable during his eight-year tenure haven't lived up to his initial campaign promises.
"He has a checkered record on equity," said David Kirkland, executive director of the New York University Metropolitan Center for Research on Equity and the Transformation of Schools. "This is one of the first bold moves consistent with his rhetoric."
The debate over the merits of scrapping the existing program has already begun.
"Gifted and Talented curriculums have provided students with crucial challenges that help them reach their full potential in the classroom," New York congressional representative Grace Meng, a Democrat, said in an emailed statement. "Phasing out this program is a mistake."
Most elements of the overhaul could be easily overturned by de Blasio's likely successor Eric Adams, with the exception of the test itself, which requires a contract renewal and could take more time, said United Federation of Teachers President Michael Mulgrew.
"It's a quarter to midnight at this point, I think this is purely a political announcement," Mulgrew said.
New York City schools are among the most segregated in the U.S. Nearly all students of color attend predominantly nonwhite schools, while only two-thirds of White students do, according to a June report by the Civil Rights Project at the University of California, Los Angeles.
Black and Hispanic kindergarteners comprised 63% of the kindergarten population, but only 16% of students in gifted-and-talented programs in the 2018-2019 school year, according to a report from the city's Independent Budget Office. Asian and White students accounted for over three-quarters of students in gifted-and-talented programs, and represent about a third of the overall kindergarten cohort.
At the high school level, Black students who took the Specialized High School Admissions Test, or SHSAT -- a single, three-hour-long, high-stakes exam that determines admission into one of the city's eight elite specialized schools -- were offered about 3.5% of the spots for the current academic year, though they represented 18.5% of overall test takers, according to figures from the city's Department of Education.
"We organized, we had a lot of people come out, and we made our case be known that this current G&T has to be discontinued," said Shino Tanikawa, a longtime parent advocate and former Community Education Council member for District 2. "It's nothing but segregating children."
Senior officials from the department plan to hold community conversations across the city's 32 school districts and roll out a full plan in December.
The overhaul was first reported by the New York Times.