New Products Will Let Europe Traders Bet On or Against ARK Funds
New Products Will Let Europe Traders Bet On or Against ARK Funds
(Bloomberg) -- Investors in Europe are getting access to three of the main strategies from ARK Investment Management LLC for the first time, as Leverage Shares releases a range of products allowing bets both on and against the main funds of superstar money manager Cathie Wood.
The issuer, which specializes in leveraged and inverse exchange-traded products, is launching nine new vehicles tied to ARK on the London Stock Exchange, Euronext Paris and Euronext Amsterdam, according to a press release on Tuesday.
The ETPs are linked to the ARK Innovation ETF (ticker ARKK), the ARK Next Generation Internet ETF (ARKW) and the ARK Genomic Revolution ETF (ARKG) and are available in dollars, pounds and euros. Three of the products will offer "1:1 exposure," while three will aim to treble the return of each ETF and three will seek to deliver three-times the inverse performance.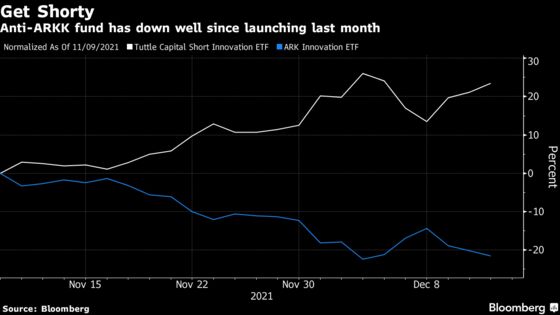 The new offerings come as Wood and ARK go through a challenging period, with many of her disruptive tech picks suffering as investors turn away from the market's most speculative bets and the priciest-looking shares. ARKK is down 24% this year, while ARKW has fallen 17% and ARKG has plunged 35%.
Last month, an exchange-traded fund listed in the U.S. offering a direct bet against ARKK, Wood's flagship fund. The Tuttle Capital Short Innovation ETF (SARK) has performed well, and after a slow start has now garnered $95 million in assets.
"Our products enable investors to make directional trades and express their convictions, whether they are supportive of a stock or ETF, or whether they believe it is over-hyped," said Dobromir Kamburov, COO of Leverage Shares. "The ETP structure is perfect for expressing such views, as unlike stocks and ETFs, investors can take a short or long view without risking losing more money than they invest."
The new leveraged and inverse products will charge 0.75% per year, while the unleveraged versions will charge 0.35%. The suite listed in London on Tuesday, and will debut in Paris and Amsterdam on Thursday.
The new ARK-linked ETPs in full are:
LS ARKK Innovation Tracker ETP
LS ARKG Genomic Tracker ETP
LS ARKW NextGen Internet Tracker ETP
Leverage Shares 3x Long ARKG Genomic ETP Securities
Leverage Shares 3x Long ARKW NextGen Internet ETP Securities
Leverage Shares 3x Long ARKK Innovation ETP Securities
Leverage Shares -3x Short ARKG Genomic ETP Securities
Leverage Shares -3x Short ARKW NextGen Internet ETP Securities
Leverage Shares -3x Short ARKK Innovation ETP Securities