Netflix Hires Ex-Apple Executive to Lead Podcasting Operations
Netflix Hires Ex-Apple Executive to Lead Podcasting Operations
(Bloomberg) -- Netflix Inc. has hired former Apple Inc. executive N'Jeri Eaton to oversee its podcasting business, a sign of the video streaming giant's growing ambitions in audio.
Eaton announced her departure from Apple via social media last week, and will join Netflix later this month, the company said Thursday. She will be part of the company's editorial and publishing team, which reports up to marketing chief Bozoma Saint John.
Eaton will manage Netflix's slate of podcasts, most of which are related to its original TV series and movies. Netflix has made companion podcasts to Martin Scorsese's "The Irishman," as well as TV shows "The Witcher" and "The Crown." The company also produces podcasts that are more broadly about pop culture or feature stars from its programs such as "Okay, Now Listen," hosted by Scottie Beam and Sylvia Obell.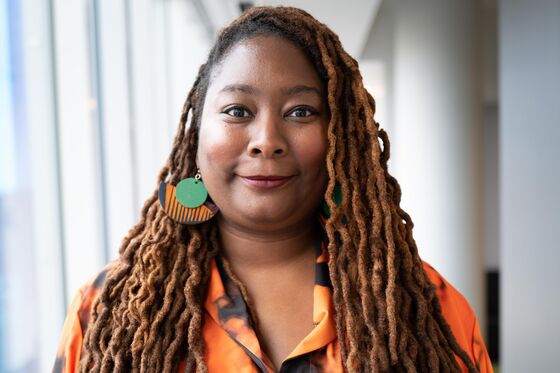 Eaton, who started her career in documentary filmmaking, was most recently in charge of content for Apple podcasts, and previously worked at NPR. At the public radio network, she worked on shows including "No Compromise," which won a Pulitzer Prize, and "Believed," which received a Peabody Award.
Netflix primarily views podcasts as a means of promoting its TV shows and movies, and houses the business under its marketing department.
"Netflix Podcasts explore the world of Netflix through audio," the company says on its website. "We go behind the scenes of series and films, dig deeper with your favorite stars, and explore the most exciting projects on the platform."
Yet Netflix is also building an editorial and publishing division led by a growing stable of journalists. Michelle Lee just left her job as editor-in-chief of Allure to oversee the division, which includes podcasts, social media channels and Queue, a print publication.
The division also creates programming to buttress Netflix's growing stable of editorial brands, including Strong Black Lead (for Black entertainment), Geeked (for fanboy programming) and Most (for LGBTQ programming).
Netflix has taken a growing interest in audio over the past couple years. Co-Chief Executive Officer Ted Sarandos sits on the board of Spotify Technology SA, one of the largest distributors of podcasts. The company has discussed making original series with no ties to existing shows, which could also then be adapted into new TV series.