World's Negative-Yield Debt Pile Has Just Hit a New Record
Negative-Yielding Debt Hits Record $17 Trillion on Bond Rally
(Bloomberg) -- The world's stockpile of negative-yielding debt has swelled to a record in the wake of the U.S. election, as investors lower expectations for a fiscal splurge and turn their focus back to monetary support.
The market value of the Bloomberg Barclays Global Negative Yielding Debt Index rose to $17.05 trillion on Thursday, the highest level ever recorded and narrowly eclipsing the $17.04 trillion it reached in August 2019.
Almost $600 billion of bonds have seen their yields turn negative this week, meaning 26% of the world's investment-grade debt is now sub-zero. Thanks to the slew of global issuance in 2020 as governments and companies wrestle with the impact of the coronavirus, that remains below 30% peak reached last year.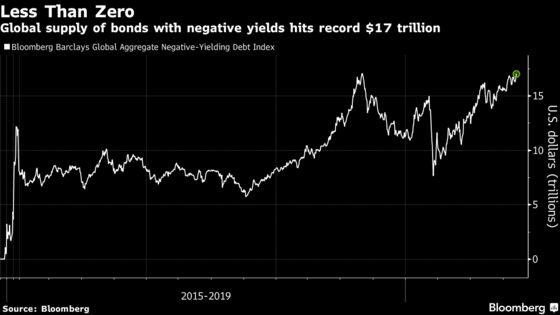 The borrowing binge has been mostly met with trillions of dollars of quantitative easing that suppress yields. Just this week, the Bank of England and Reserve Bank of Australia announced plans to expand their bond-buying programs, while the Federal Reserve discussed a shift.
For investors watching yields vanish, it's become a dilemma: make riskier bets in order to boost income or accept lower returns.
"There are still return hurdles that investors will try to reach but that is not something you can get in a large share of fixed income products at this point," said Richard Kelly, head of global strategy at Toronto-Dominion Bank. "This will drive a further push out the risk curve for investors, be that equities, credit, or long-end bonds."
While much of the sub-zero debt pile is denominated in euros and yen, dashed expectations for a massive fiscal spending package under a unified Democratic government are also whittling down Treasury yields.
For now, yields in the $20 trillion U.S. Treasury market are likely to stay in positive territory as long as the Fed refrains from deeper rate cuts, according to John Davies, U.S. interest rate strategist at Standard Chartered Plc.
For comparison, 10-year German yields only went negative for the first time after the European Central Bank cut interest rates to minus 0.4% in 2016.
"If you get some really nasty, protracted contested outcome to this election then you could see UST yields fall a fair bit further," he said. But "you would need a negative Fed policy rate as a prerequisite to get five- to 10-year yields negative."