Mystery Rally Makes This Turkish Bank Bigger Than All Rivals
Mystery Rally Makes This Turkish Bank Bigger Than All Rivals
(Bloomberg) -- A breathtaking rally in QNB Finansbank AS's shares has made the lender more valuable than all the other listed Turkish banks combined, and traders are struggling to figure out what's driving the surge.
QNB Finansbank, which is owned by Qatar National Bank, has doubled in value this year, pushing its market capitalization to 254 billion liras ($42 billion). That's almost five times larger than Turkiye Garanti Bankasi AS, its largest rival, and more than the combined value of all Turkey's other listed lenders of 237 billion liras. The gains have made QNB Finansbank about the size of Barclays Plc.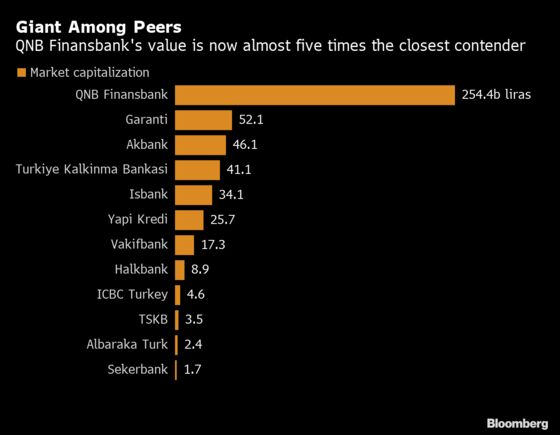 The stock is no stranger to wild fluctuations, especially since the QNB takeover in 2016, due to a lack of liquidity. But this year's moves have been extreme: at some point on Wednesday it was up as much as 174% in 2020. That follows a 316% jump in 2019 after a gain of 63% the year before. Little more than 4 million of the more than 3.3 billion QNB Finansbank shares outstanding are publicly traded, with 99.9% of the stock closely held, according to data compiled by Bloomberg. That exacerbates oscillations in a stock that isn't covered by any analysts.
"While there's no fundamental reason behind the move, with the free float rate being so limited, the stock becomes susceptible to wild swings," said Can Oksun, head of institutional trading at Global Securities in Istanbul.
QNB Finansbank's latest rally appeared to run out of steam Wednesday, with the stock falling 15% in Istanbul, snapping a 12-day winning streak that was the longest since 2005. About 850,000 shares had changed hands as of 4 p.m., in contrast with the 17.4 million shares traded in Garanti. QNB Finansbank may have a larger market value than Garanti, but its business is smaller: net interest income was 5.24 billion liras in the first nine months of 2019, against 13.8 billion liras at Garanti.
Spokesmen for QNB Finansbank, its parent company and the Turkish markets regulator weren't immediately available to comment.
Since QNB purchased the lender from Greece National Bank, the stock has risen about 17-fold. Investors buying the shares after the latest rally will need to ignore at least one technical indicator that the gains are overdone: the 14-day relative strength index on QNB Finansbank was above 90 on Wednesday at one point, well beyond the level of 70 that signals to some traders that they have risen too far, too rapidly.
To contact the reporter on this story: Tugce Ozsoy in Istanbul at tozsoy1@bloomberg.net
To contact the editors responsible for this story: Onur Ant at oant@bloomberg.net, ;Blaise Robinson at brobinson58@bloomberg.net, John Viljoen