Most Citizens in Rich Nations Support Individual Climate Action
(Bloomberg) -- A majority of citizens in North America, Europe and Asia aren't too confident that the international community will succeed in fighting climate change, but they're willing to make changes to their own lives to slow global warming. 
As many as 80% of citizens in 17 developed economies including the U.S., U.K., Germany, Singapore and South Korea are willing to make some and a lot of alterations to how they live and work, according to a survey by the Pew Research Center released on Tuesday. 
In contrast, 52% said they're not too confident, or not at all confident, that countries will be able to tackle the effects of climate change. Those surveyed see the European Union's and the United Nations' response to the crisis as good, while the U.S. and China got poor marks. 
The report was published less than two months before global leaders gather in Glasgow for UN-sponsored talks known as COP26. Countries are expected to come up with more ambitious measures to significantly cut greenhouse gas emissions in order to arrest global warming from its current path of 3 degrees Celsius by the end of the century. 
Citizens are more concerned that climate change will affect them personally than they were in 2015, when the global community signed the Paris Agreement to take steps to keep global warming below 2°C and close to 1.5°C. 
Out of the countries surveyed, Germans showed the greatest increase in worry. The number of respondents who said they were "very concerned" that climate change will harm them personally at some point in their lifetime rose 19 percentage points from 2015. The survey was conducted between Feb. 1 and May 26, before devastating floods left over 240 people dead in the country's west. 
A majority of citizens said they're either "somewhat" or "very" concerned about how global warming would affect their lives even in countries that haven't led on climate action historically. Only in Sweden 56% of respondents said they were "not at all" or "not too" concerned about climate change. In Japan, the amount of people "very worried" fell 8 percentage points from 2015.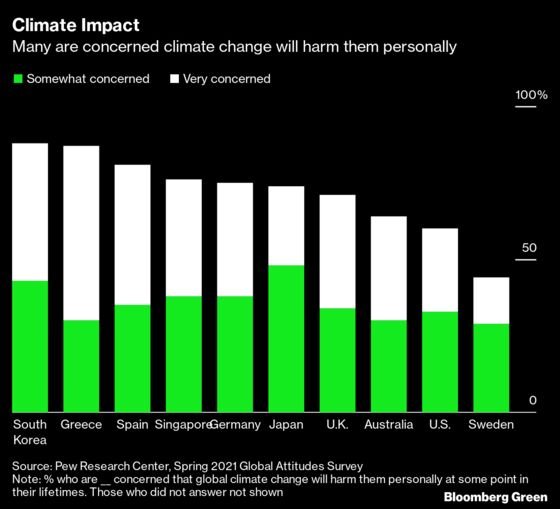 Young people are more likely to be concerned about climate change than their older counterparts, with gaps as large as 40% in Sweden and 31% in New Zealand. Similarly, women are more concerned than men that global warming will harm them personally. 
The survey, which was conducted through telephone interviews with 18,850 people, showed citizens have mixed views over the economic impact of actions taken to fight climate change. A median of 31% across all 17 countries surveyed said these actions will be good for the economy, 24% thought they would mostly harm it and 39% said they will have no economic impact.