Molson Expands Hard Topo Chico Across U.S. Despite Seltzer Woes
(Bloomberg) -- Molson Coors Beverage Co. is investing in hard-seltzer production and planning to take alcoholic Topo Chico nationwide despite a sharp downturn in demand for a category that was one of the hottest earlier in the pandemic.
The company, which has actually been growing its share of the category, will expand distribution of Topo Chico Hard Seltzer to all 50 U.S. states starting in January, up from 16 markets currently, according to spokesman Marty Maloney. The drink, an alcoholic take on the Mexican seltzer brand, was introduced in the U.S. earlier this year through a partnership with Coca-Cola Co.
Separately, Molson Coors will invest about $40 million in new equipment to automate production of seltzer variety packs at its brewery in Fort Worth, Texas, according to a person familiar with the plans. It expects the new capacity to be operational in late 2022.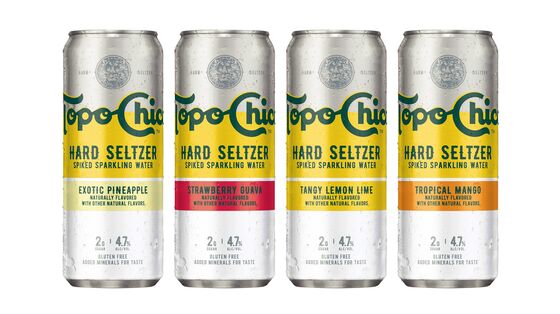 The moves come amid a slump in the $4.2 billion market for hard seltzer in the U.S. after strong growth last year. Boston Beer Co. last week withdrew its 2021 guidance due to a faster-than-expected decline in seltzer demand, while Molson Coors itself recently killed its Coors seltzer brand in the U.S. less than a year after introducing it.
Overall there were "accelerating declines in hard seltzer" over the last weeks of the summer, according to Cowen analyst Vivien Azer. She pointed to recent Nielsen data showing that after a period of sustained growth, the category turned negative in August, with a 3.6% decline in the last two weeks from a year ago.
Not all brands are being hit the same way, however. In the four weeks ended Aug. 28, seltzer giant Mark Anthony Group, which makes White Claw, saw its share slip 6.7 percentage points to about 43% of the market from a year ago, according to Nielsen data cited in a recent report from Morgan Stanley. That has allowed smaller brands to grow, including those from Molson Coors, which roughly doubled its market share in that period to about 6%.
Molson Coor's recent decision to discontinue its Coors seltzer line was in part to refocus on brands with better consumer traction, including Topo Chico and Vizzy.
The company has been investing consistently in the category, expanding its U.S. production capacity by approximately 400% last year. This year, it quadrupled Canadian seltzer production and invested nearly $35 million in a hard seltzer canning line and other upgrades at the Burton-upon-Trent brewery in the U.K., moves to help it maintain the recent growth.
"We've gained share week over week through this year," Molson Chief Executive Officer Gavin Hattersley said of the category during a September presentation at a Barclays consumer conference. "We're very excited about our seltzer portfolio, not only in the United States but also overseas and in Canada."