Miami Gets Its Own 'Charging Bull' Statue for Crypto Week
(Bloomberg) -- Miami kicked off a multiday Bitcoin conference by unveiling a larger-than-life bull statue, as the city looks to cement its image as a crypto hub. 
The installation, named "Miami Bull," bears the likeness of Wall Street's "Charging Bull" -- except with Bitcoin "laser eyes." The statue, which weighs in at 3,000 pounds (1,361 kilograms), was commissioned by Florida-based trading platform TradeStation. 
The bull's "presence further reaffirms the strength of Miami's position on the financial world stage," Miami Mayor Francis Suarez said in a statement. "The future of finance is here, in Miami."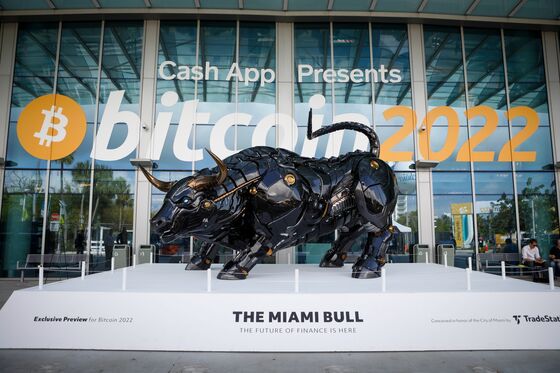 Florida has long looked to become the Wall Street of the South with prominent financial companies from Ark Investment Management to Elliott Investment Management moving in. Miami is hosting crypto events all week, with the "Bitcoin 2022" conference slated to see more than 25,000 participants. It's part of what's become an annual mass migration to the area, with many crypto companies using it as an opportunity to make major announcements. 
Though the 11-foot ( 3.35-meter) "Miami Bull" statue is marking its first public appearance at the "Bitcoin 2022" conference, it will afterward be moved to the Miami Dade College Campus.
Bitcoin itself didn't add to the conference exuberance. The cryptocurrency dropped for a third day, declining as much as 5.3% to $43,421, as it mirrored Wednesday's decline in U.S. equities. Bitcoin has declined a similar amount so far this year, trading in a range for much of that time.  
One of the highest-profile Bitcoin boosters canceled his appearance. El Salvador President Nayib Bukele said he won't be attending "due to unforeseen circumstances," the conference organizers announced in Tweet that include a letter from Bukele. The nation has been beset by gang violence recently.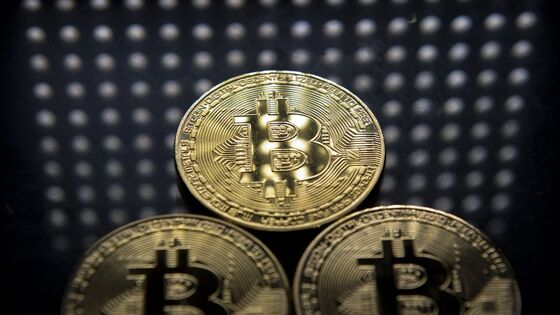 Suarez, a Republican, has fully embraced the world of cryptocurrencies and all its tangentials as he looks to build the city into a digital-assets epicenter. He announced last year that he'd be receiving his paychecks in Bitcoin and has since looked to further foster crypto firms and entrepreneurs. Meanwhile, Florida Governor Ron DeSantis, also a member of the GOP, said last month the state was working on a plan to let businesses pay tax in cryptocurrency.
"We need to elect pro-Bitcoin candidates, and yes, the next President of the U.S. has to be a pro-Bitcoin candidate, " Suarez said Wednesday at the opening of the conference where he dressed all in black to emphasize the yellow Bitcoin logo on his shoes. "What's at stake is federal legislation that can either propel us into the next generation or can set us back. There's one thing that the U.S. should never do. It should never agree on anything with Russia and China when it comes to Bitcoin."
Suarez also said more work needed to be done to integrate Bitcoin into "every aspect" of society so that you can walk into a convenience store and pay with Bitcoin. He said the cryptocurrency has the potential to create wealth for the unbanked and help protect savings amid rising inflation.
"We have to lean into this generational wealth creation opportunity so that the poor in our community don't get left behind like they always do when government intervenes," Suarez said. "We have to understand that Bitcoin has the possibility of being able to allow for people to transmit money outside of the banking system, efficiently and quickly."