MGM Cut $32 Million Pay Deal With CEO Who Left to Fight Pandemic
MGM Cut $32 Million Pay Deal With CEO Who Left to Fight Pandemic
(Bloomberg) -- Few businesses have been hit as hard by the coronavirus pandemic as MGM Resorts International.
By last week, it had closed all its U.S. casinos, furloughed tens of thousands of workers and started layoffs. The stock was pummeled and outgoing Chief Executive Officer Jim Murren had visited Washington to ask for financial aid.
Then on Sunday, MGM's directors said Murren would step down immediately, accelerating plans announced last month. They handed the executive, who is going to work for the Nevada governor, $32 million in exit payments -- sidestepping his original job contract, which entitled him to nothing if he left the company voluntarily.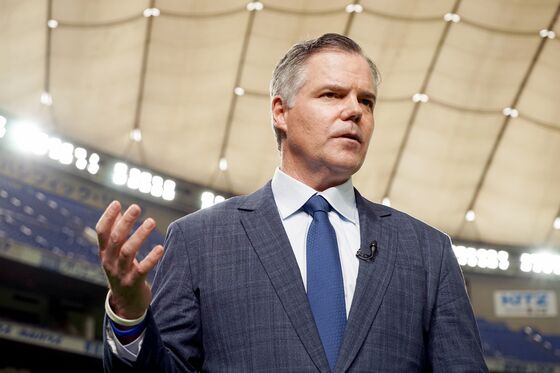 It's not unusual for boards to strike bespoke severance deals with outgoing senior executives. But for MGM, the timing is unusual. The company's prospects seem bleak and its workers face an uncertain future. Some lawmakers have proposed barring companies that receive federal aid from paying golden parachutes. It's unclear whether that would have impacted Murren's arrangement.
"That's called having your cake and eating it, too," Charles Elson, director of the University of Delaware's center for corporate governance, said of the board's decision to pay Murren. "I don't think that will play very well with investors."
In an emailed statement, MGM said the board had determined to accelerate the transition because it "believes continued steady, skilled leadership is needed in this time of great upheaval and uncertainty."
MGM, the largest owner of casinos on the Las Vegas Strip, said on Feb. 12 that Murren, who'd been CEO since 2008, would hand over the reins as soon as a successor had been found. The plan was for him to stick around through the year to help with the transition and act as a paid consultant for 2021, according to a revised job contract disclosed two days later.
The agreement also said that Murren would receive a combined $32 million in salary, incentives and severance for his work over those 22 months. That included a $4 million guaranteed bonus for this year, $575,000 a month in 2021 for his consulting services and $12 million in severance.
If Murren left on his own during that period, his payments would cease and he wouldn't be eligible for severance, according to the contract.
On Sunday, MGM said that Bill Hornbuckle, Murren's longtime deputy, would take over as acting CEO. Murren had "vacated the position" to "provide continuity of leadership" at MGM, the casino company said in a statement.
Nevada Governor Steve Sisolak said that Murren had been tapped to lead the state's newly formed task force to tackle the coronavirus outbreak. Murren "helped develop this idea," Sisolak said at a news conference, lauding the casino executive's experience and contacts in Washington and beyond.
But on Monday, MGM's board said that Murren's exit would be categorized as a "termination without good cause," according to a regulatory filing, not as a voluntary exit. As a result, he is eligible to collect the full $32 million.
"He publicly expressed an altruistic intent, which is a good thing," University of Delaware's Elson said of Murren. "But to see that the board compensated him in that way, that's troubling. If they'd given him something -- fine. But the full value?"
Murren won't receive any compensation from the state for his work leading the task force, Sisolak said.