Meme Stocks Roar Back to Life With GameStop, AMC Catching Fire
(Bloomberg) -- Day traders who have been flocking to all things crypto in recent weeks have rediscovered their zest for meme stocks.
GameStop Corp. surged 13% Monday, its second double-digit rally in three days. AMC Entertainment Holdings Inc. closed 7.5% higher, building on last week's 36% jump. A basket of stocks caught up in January's Reddit-fueled meme-stock frenzy rose 5.6% for its best performance since late March.
Similar to the earlier mania, the catalyst for the latest advances seems to have come from social media. The hashtag #SqueezeAMC trended on Twitter Monday, in a call to recreate the heavy retail buying in January that forced investors out of bearish positions on GameStop and other stocks. AMC, which has was also the most-cited stock on online message board Stocktwits over the weekend.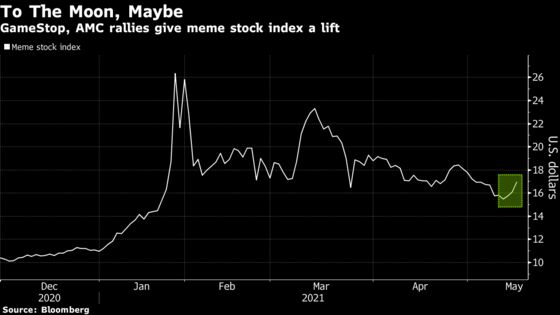 Participation by retail traders swelled to 24% of all U.S. stock market action during the first quarter, according to Bloomberg Intelligence's Larry Tabb. Stocks the group favored soared, including a 1,600% rally in January by GameStop. But those bets turned sour in the second quarter, with some of the Reddit targets falling more than 50%.
At the same time, demand for cryptocurrencies surged, sending some alternatives to Bitcoin into eye-popping rallies reminiscent of the meme-stock frenzy. That buying has started to show signs of cooling, with Tesla Inc.'s Elon Musk denting the price of Bitcoin with back-and-forth utterances on the electric-car maker's plans for the token.