Man United Shares Tumble as Glazer Family Cuts Stake Again
(Bloomberg) -- Shares of Manchester United Plc slid the most since March 2020 after the English soccer club's owners sold a stake worth about $186 million, the second disposal this year by the Florida-based Glazer family.
Kevin Glazer and Edward S. Glazer's trusts offered 9.5 million shares, according to a statement published after the close of trading Tuesday. The deal priced on Wednesday at $17.50 per share, according to a person familiar with the matter, an 11% discount to Tuesday's last trade. The stock sank as much as 14% in early New York trading on Wednesday. 
"The sale is a personal matter for Edward and Kevin," a spokesman said in written comments, adding that post-sale, the Glazers will hold a combined 69% stake, down from about 75%. The move follows the family offloading about $96 million worth of stock in March.
The latest offering follows an 11% runup in United's shares since Sept. 17, when the company reported earnings amid a return to full capacity stadiums in England as pandemic restrictions were relaxed.
Before the sale, the stock had climbed 17% this year amid an added boost from the return to the team of superstar Cristiano Ronaldo. United has had one of its strongest starts to a season in recent years, sitting just two points off the top of the Premier League table after seven matches, with Ronaldo providing three goals in the competition.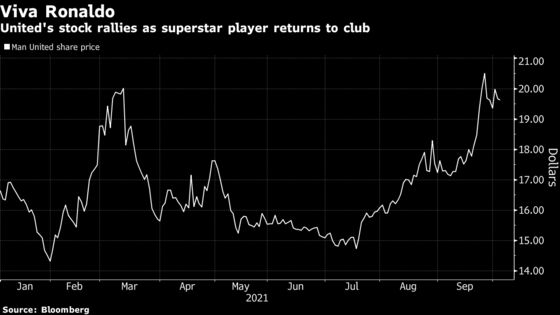 Bank of America Corp. is serving as underwriter for the share sale.