Manager Who Gained 85% on Distressed Debt Says Beware Evergrande
Manager Who Gained 85% on Distressed Debt Says Beware Evergrande
(Bloomberg) -- A top performing distressed debt investor says he's avoiding China Evergrande Group, citing risks from the developer's heavily discounted asset disposals and liabilities that may not be fully reflected in its balance sheet. 
Zhang Zhijun, chairman of private fund manager Beijing DingNuo Investment Management Co., said his firm has not bought Evergrande bonds since May after its previous holdings matured. Two of his company's credit-focused funds have beaten 99% of peers this year, with one of them reaping a return of 84.7% as of Dec. 17, according to Simuwang.com, a Chinese financial-data provider.
Those gains were made largely on bottom-fishing onshore bonds of distressed companies including China Fortune Land Development Co. and chip-maker Tsinghua Unigroup Co., Zhang said. His firm had more than 568 million yuan ($89 million) in assets under management as of Tuesday.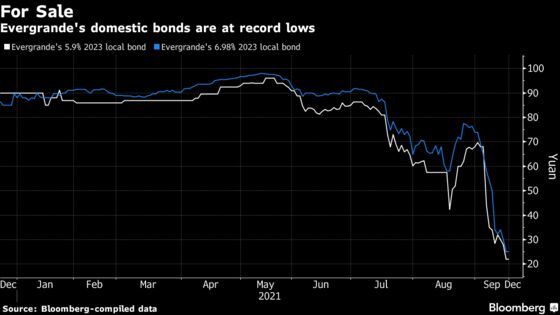 "We once tried to gauge the recovery ratio of Evergrande onshore bonds, but we gave up buying them as it has excessive wealth management products and financing off its balance-sheet," Zhang said. 
Evergrande didn't respond to requests for comment on its financing.
Zhang's cautious view on Evergrande contrasts with more upbeat assessments from international distressed debt investors including Marathon Asset Management. The developer was labeled a defaulter for the first time earlier this month after it missed making coupon payments on two bonds. The company, which disclosed more than $300 billion of total liabilities as of June, has said it is "actively engaging" with offshore creditors on a restructuring plan. 
Zhang says he will continue seeking investment opportunities in oversold distressed debt, particularly bonds with shorter duration, at a time when risks continue to simmer. Long considered one of the industry's healthier players, Shimao Group Holdings Ltd. has recently seen its bonds tumble to record lows on concerns about payment difficulties. Elsewhere Sunac China Holdings Ltd. has also faced liquidity risk. Any potential failure for those firms would test the survival abilities of bigger companies such as Country Garden Holdings Co., Zhang said.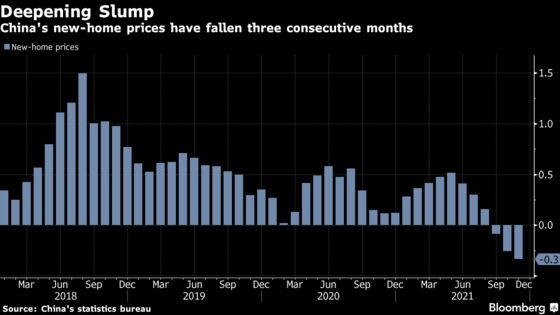 Shimao, Sunac and Country Garden declined Bloomberg requests for comment.
China's developers will continue facing difficulties amid a sales slowdown, Zhang said. A liquidity crisis has rippled through the sector, sparked by a government crackdown on excessive borrowing by builders and housing market speculation.
"Mutual fund houses and asset managers are dumping large amounts of onshore property developer bonds, which quickly slumped to record low levels," Zhang said. This will drive up costs of primary market issuance along with the pricing of loans and trust products, creating a vicious cycle that will further squeeze the cash flow of troubled developers, he said. 
Only a few of the strongest firms have recently tapped China's interbank credit market, while yields are so high offshore that the dollar bond market remains effectively shut for refinancing. While there has been optimism over signals of further government support -- Zhang sees more tailor-made policy to come for the sector -- he said he questions whether healthier property firms would be capable of acquiring projects from distressed developers.
"The sales downturn is a common issue across the sector, for both state-owned and private firms -- even though some of the former may have enjoyed the temporary benefits of easier financing onshore now," Zhang said.
"Only when sales recover will it be possible for developers to restore financial health," he said, adding that he expected to see more clarity from authorities on easing policies. "That will ultimately lead to overall market stability."
With assistance from Bloomberg