Malaysia Keeps Key Rate on Hold Amid Lockdown, Political Turmoil
Malaysia Keeps Key Rate at Record Low Amid Political Turmoil
Malaysia held its benchmark interest rate at a record low Thursday, maintaining support for the economy amid mounting political instability and a prolonged virus lockdown.
Bank Negara Malaysia kept the overnight policy rate at 1.75%, a decision expected by 19 of 21 economists surveyed by Bloomberg. The others had expected the central bank to cut rates for the first time since last July.
The outlook "remains subject to significant downside risks, due mainly to factors that could lead to a delay in the easing of containment measures or imposition of tighter containment measures" and a weaker-than-expected global recovery, the central bank said in a statement.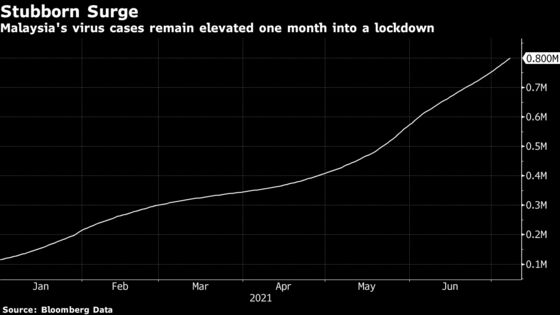 In addition to its accommodative stance, "fiscal and financial measures will continue to cushion the economic impact on businesses and households and provide support to economic activity," the bank said.
The benchmark stock index was down 1.7% as of 3:49 p.m., headed for its biggest drop in more than three months. The ringgit held earlier losses, down 0.4% to 4.1775 per dollar, while government bond yields were little changed.
An accelerated vaccine roll-out has allowed the government to ease virus curbs in six states, providing some breathing space to the economy. Still, much of the country remains under lockdown since June 1, with the economy expected to fully reopen and recover only in the final quarter of the year.
What Bloomberg Economics Says...

"While downside risks to domestic and foreign demand keep the door open for more rate cuts this cycle, our base case remains that BNM's next move will be a rate hike in 2022 – possibly as soon as 2Q if energy prices continue marching higher and the recent pickup in vaccinations is maintained."

-- Tamara Mast Henderson, Asean economist
Limited fiscal space and political squabbling add to Malaysia's woes. The largest political party in Prime Minister Muhyiddin Yassin's ruling coalition withdrew its support earlier Thursday, demanding he resign. Under a state of emergency imposed in January amid the pandemic, parliament will reopen briefly July 26 for the first time this year, with a limited agenda that includes discussion of the Covid recovery plan.
BNM repeatedly flagged downside risks, including "the front-and-center domestic risk of a more extended or tightened set of Covid-19 countering measures," said Wellian Wiranto, an economist at Oversea-Chinese Banking Corp. who had expected the bank to lower rates Thursday. "As much as the bar is high for a rate cut -- as evidenced by the lack of easing today despite the ongoing challenges -- BNM has left the door open for such remedial action should the situation worsen further."
Covid cases have continued rising despite the state of emergency and lockdowns, sparking criticism of the government's response. The country tallied more than 8,800 new Covid infections Thursday, approaching the record 9,000 daily cases seen in May.
Given ongoing containment measures, Malaysia will announce next month a revision to its full-year forecast of 6%-7.5% growth. The economy lost about 1 billion ringgit daily when the lockdown was in full swing, the prime minister said last month.
Last month the government unveiled 150 billion ringgit ($35.9 billion) in Covid aid -- its fourth package this year -- including cash handouts and wage subsidies. Announcing the measures, Muhyiddin said the government's remaining fiscal space was very limited.
Consumer prices rose less than expected in May, up 4.4% from a year earlier after April's 4.7% gains. Bank Negara Malaysia said Thursday it expects consumer inflation to average toward the lower bound of its 2.5%-4% target range this year.
The central bank "made it quite clear that inflation is not the immediate concern, given that it's likely to be transitory, implying that the option to provide additional monetary accommodation is wide open," said Mohd Afzanizam Abdul Rashid, chief economist at Bank Islam Malaysia Bhd. "However, we believe BNM may want to keep the Overnight Policy Rate on hold for as long as possible, as they may want to conserve policy space. We're inclined to put the OPR at 1.75% throughout the whole year."