Turkish Lira Slides to Record Low on Rising Tensions, Rate Cut
(Bloomberg) -- Turkey's lira dropped to a record low on Monday as a stronger U.S. dollar weighed on emerging-market currencies, adding to bearish momentum on the lira since the nation's central bank unexpectedly cut interest rates last month.
The currency extended losses past 9.00 per dollar in New York hours, trading for as little as 9.0178, a 0.5% drop. The move followed last week's rout in Treasuries that drove the ten-year yield to a four-month high. The U.S. bond market is closed on Monday for holiday.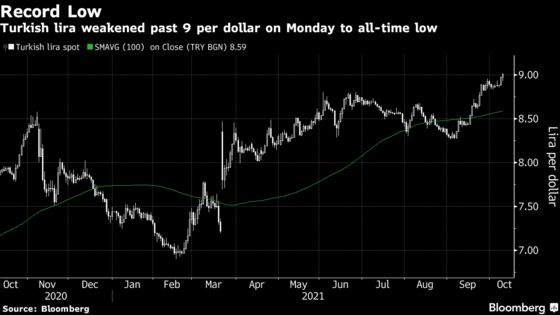 The lira tumbled 6.5% in September and has continued to slide in October. The slump accelerated after the central bank, known as CBRT, delivered a surprise cut of 100 basis points on Sept. 23, a move that stoked concerns about inflation and enabled fixed-income investors to earn higher returns abroad. 
The Turkish central bank, known as CBRT, cut rates last month after evaluating demand factors that can be affected by monetary policy, despite supply-chair bottlenecks that have led to an acceleration in inflation, Governor Sahap Kavcioglu told parliament on Monday.
"CBRT has made lira vulnerable with its narrative on low rates despite high inflation and caused another major sell-off in the lira," Piotr Matys, senior currency analyst at InTouch Capital Markets Ltd said.
The markets have also been concerned about heightened regional tensions, with the latest drop coming as President Recep Tayyip Erdogan made a thinly veiled warning of a possible military offensive into neighboring Syria. Turkey-backed rebels are fighting there against forces loyal to Syrian President Bashar al-Assad and Kurdish militia.
Erdogan said in Ankara on Monday that Turkey is determined to eliminate threats emanating from Syria "either through forces that are active there, or by our own means."