Lebanon Bonds Plunge as Government Taps Debt Advisers
Lebanon Hires Lazard, Cleary Gottlieb as Debt Advisers
(Bloomberg) -- Lebanon's longer-dated bonds slid Tuesday after the government confirmed its hiring of Lazard Ltd. and Cleary Gottlieb Steen & Hamilton as legal and financial advisers for a potential debt restructuring.
The nation's $2.1 billion worth of notes due in April 2021 tumbled by 1.8 cents to an all-time low of 29.1 cents on the dollar. Meantime, Lebanon's bonds maturing on March 9 pared gains after hitting the lowest on record Monday.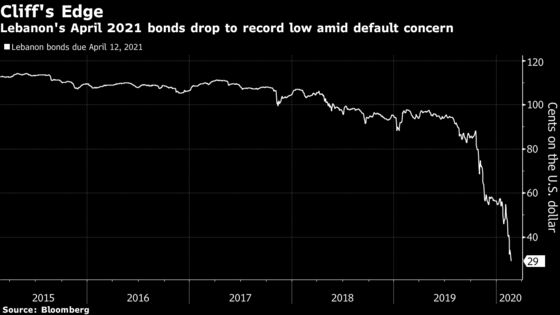 Bondholders are betting Beirut is on the verge of defaulting yet it may fork over funds for the March payment to buy itself more time, according to Patrick Esteruelas, who heads research at Emso Asset Management in New York.
"It's a dangerous game," he said. "Might as well bet on black in roulette."
Lebanon has until the end of February to decide whether to repay its $1.2 billion Eurobond note due March 9, Information Minister Nada Abdel-Samad told reporters after a cabinet meeting. The central bank had proposed a debt swap in January with local holders to avert a default. On Monday, the government concluded several days of talks with the International Monetary Fund in Beirut on how to manage the fiscal crisis.
"The discussions on the challenges and the authorities' plans to address them were very informative and productive," the IMF said in a statement.
Lebanon's economic turmoil has led to the emergence of a black market rate for the currency peg and the imposition of informal capital controls. Some officials have urged the government to skip its upcoming debt repayment, ending the nation's remarkable streak of never defaulting, and instead use the central bank's dwindling reserves for imports of food and medicine. Others have said the way out of the predicament is an IMF bailout.
But an IMF program has become a politically charged issue as well. Hezbollah, an Iran-backed group that together with allies holds a majority in Parliament and cabinet, has rejected the idea.
"We won't agree to be subjugated to the International Monetary Fund to manage the crisis," Naim Qassem, deputy head of Hezbollah, said in a speech carried by the state-run National News Agency. The IMF can, however, assume an advisory role, he said.
To contact the reporters on this story: Dana Khraiche in Beirut at dkhraiche@bloomberg.net;Ben Bartenstein in New York at bbartenstei3@bloomberg.net
To contact the editors responsible for this story: Shaji Mathew at shajimathew@bloomberg.net, ;Carolina Wilson at cwilson166@bloomberg.net, Amy Teibel, Michael Gunn