Latam Airlines CEO Cuts Costs and Emissions During Bankruptcy
(Bloomberg) -- Latam Airlines Group's chief executive wants to steer his company out of bankruptcy next year with a shrinking carbon footprint and lower costs that can help it grow in a travel market still recovering from the coronavirus pandemic. 
Roberto Alvo said Latin America's largest air carrier is making progress on a financing plan that it will submit to a judge next month, putting it on track to exit bankruptcy protection as soon as the first half of 2022. 
During the Chapter 11 process, which it entered last May, the company retooled its fleet and slashed operating costs to compete with low-cost carriers. But Alvo, a two-decade company veteran who took over as CEO last April as the pandemic was upending air travel, is stressing its role as a corporate citizen, including its pledge cut carbon emissions. 
Latam "will be financially much stronger than how it entered and very willing and able to take market opportunities to grow," Alvo said in an interview in Bogota on the sidelines of an airline conference. "But most important is that the countries where we operate understand the company as an asset to society."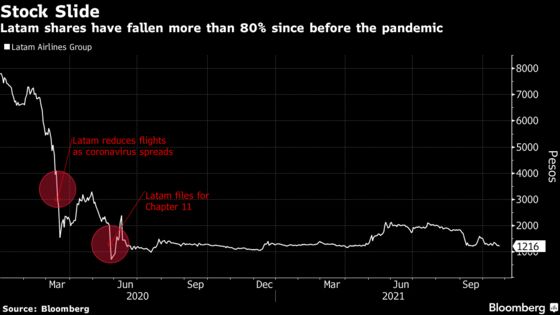 Carriers around the globe, including Latam, are vowing to eliminate carbon emissions on a net basis by 2050 as the industry aligns with the Paris Agreement goal to limit global warming. Airlines have few options to reach the goal, at least in the short term, as production of more sustainable fuels remains limited. 
Latam is investing in conservation and reforestation projects to offset its CO2 output, adding more fuel-efficient Airbus A320neo aircraft to its fleet and installing flight trajectory software that will save more than 20,000 tons of fuel a year. Alvo said the investments will ultimately benefit the company's bottom line as passengers recognize Latam's work on sustainability. 
"It is perfectly compatible to have a money-making business while using your platform to help the societies where we operate," he said. 
Demand in its five South American domestic markets will be at pre-pandemic levels next year, but international travel will be slower to come back, he said. Latam expects pre-Covid profitability to return in 2024. 
The Santiago-based airline filed for Chapter 11 protection after it was forced to ground most of its fleet as governments sealed borders and closed air space in an attempt to stop the spread of the coronavirus. Two other major airlines in the region, Avianca Holdings and Grupo Aeromexico, also filed for bankruptcy. 
A year and a half after it started the process, Latam's bankruptcy is beginning to drag on, at least in the eyes of some creditors. 
The company has held talks with creditors on the contours of a restructuring plan, but there remains a "massive economic gulf" between itself and a key group of debt holders, lawyers for the creditors wrote in court papers this month. Its official low-ranking creditor group is worried it will be forced to accept a sub-optimal plan.
A key issue is whether shareholders are entitled to anything when the bankruptcy ends. In the U.S., where the bankruptcy is playing out, shareholders are last in line for repayment and usually get wiped out. But in Chile, shareholders have certain legal rights that may be at odds with U.S. rules. Latam's major shareholders include the Cueto family, Delta Air Lines Inc. and Qatar Airways.
Latam last week got permission to access a $750 million credit line provided by Oaktree Capital Management and Apollo Global Management. The company still has borrowing capacity under other credit facilities obtained during its bankruptcy, but the fresh cash is cheaper than those other options, the company said.
The company requested a court extension to submit its plan to exit Chapter 11. If approved, it would have until Nov. 26 to file the plan, a deadline Alvo said he's "confident" the company will meet. 
"The company is working hard and making sure that it can negotiate something that is good for all stakeholders and in compliance with Chilean and U.S. law," he said. 
The case is LATAM Airlines Group SA et al., 20-11254, U.S. Bankruptcy Court for the Southern District of New York (Manhattan). To view the docket on Bloomberg Law, click here.