Key Erdogan Ally Says Turkish Ties With Russia Must Be Reviewed
Key Erdogan Ally Says Turkish Ties With Russia Must Be Reviewed
(Bloomberg) -- Turkey's President Recep Tayyip Erdogan needs to review ties with Russia after Moscow-backed Syrian troops killed at least 12 Turkish soldiers this month, said Devlet Bahceli, a key ally of the Turkish leader.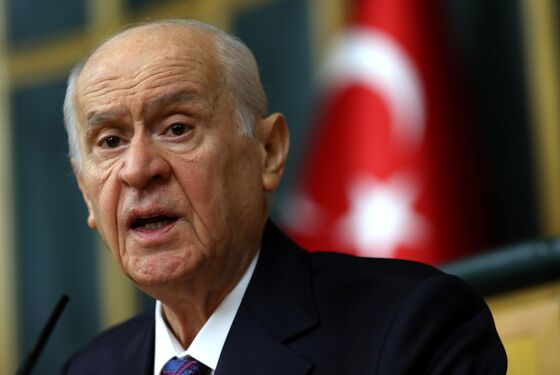 There is no overlap between Turkish interests and those of Russia in Syria's nine-year-old civil war and Ankara should plan on taking on Bashar al-Assad's forces if need be, Bahceli, who's also head of the Nationalist Movement Party, told lawmakers on Tuesday.
"The Turkish nation must plan on confronting Damascus if there is no other option left," Bahceli said.
To contact the reporter on this story: Selcan Hacaoglu in Ankara at shacaoglu@bloomberg.net
To contact the editors responsible for this story: Onur Ant at oant@bloomberg.net, Paul Abelsky