Kawasaki Plans to Bring its Electric Tricycles to Europe
(Bloomberg) -- Kawasaki Heavy Industries Ltd. aims to sell its three-wheeled electric "noslisu" tricycles in Europe in two or three years, reflecting an increase in demand for smaller mobility options and delivery services in the wake of the pandemic. 
The noslisu, with two wheels at the front and one at the back, has a section below the handlebars for carrying goods and is easy to ride in urban areas, according to Kawasaki, a Japanese manufacturer better known for its motorcycles. The fully-electric version is priced at 320,000 yen ($2,930). 
"There's definitely demand" for three-wheelers in Europe, said the leader of the electric tricycle project, Hiroshi Ishii.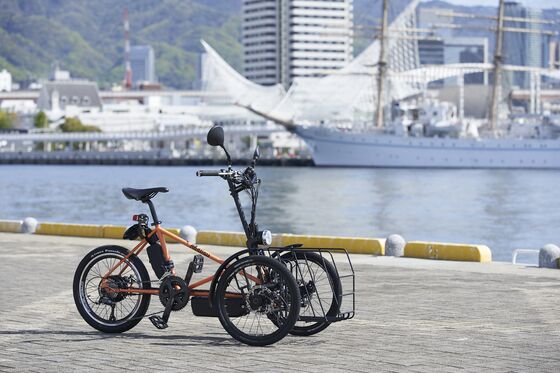 The coronavirus has encouraged people to look at alternatives to congested public transport systems, increasing demand for bikes and other smaller vehicles. Kawasaki says its three-wheelers are stable and better suited to carrying heavier loads. 
"We want to target an area where two-wheelers can't reach," Ishii said. 
For now, Kawasaki has modest targets for the electric tricycle, partly due to uncertainty over supplies from Southeast Asia as Covid disrupts manufacturing in the region. Ishii expects about 100 unit sales in Japan in the fiscal year through 2023 when the noslisu officially launches to the public. 
Allied Market Research forecasts the global market for three-wheelers will reach $1.1 billion by 2030.
Japan Post Co. tested Kawasaki's three-wheelers during this summer's Olympics and Paralympics in Tokyo and is considering using them instead of Honda Motor Co.'s Super Cub gas-powered scooter, according to Ishii.
"There's a lack of delivery drivers" and even though Japan Post hires some part-time workers, apparently many say they can't drive motorcycles, he said. "Japan Post seems to be thinking there should be a vehicle that's as light and easy to handle as bikes to better use its people."