Julian Assange Denied Bail During U.S. Extradition Appeal
Julian Assange Denied Bail During U.S. Extradition Appeal
(Bloomberg) -- Julian Assange was denied bail by a London judge who cited the WikiLeaks founder's years hiding in the Ecuadorian embassy as evidence that he remained a flight risk.
Judge Vanessa Baraitser refused to give the 49-year-old bail after she blocked his deportation Monday because of his risk of suicide. He will remain in London's high-security Belmarsh prison, where he's been for nearly two years.
Assange "still has an incentive to abscond," Baraitser said, pointing to his previous breaking of bail conditions. The U.S. government is appealing her extradition ruling.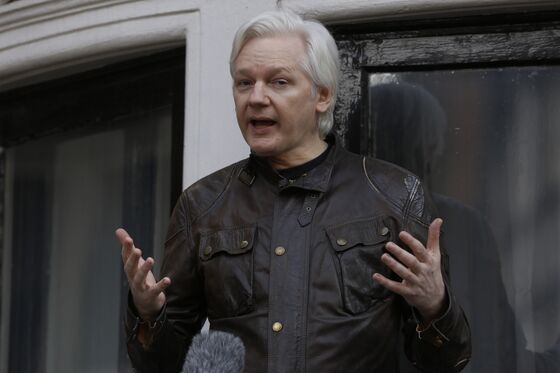 The Australian spent the last decade either in a U.K. prison or hiding out in the embassy in London to avoid deportation. He's fighting efforts to bring him to America to face charges of espionage for his role in releasing hundreds of thousands of pages of classified documents via WikiLeaks, with the help of U.S. Army intelligence analyst Chelsea Manning.
On Wednesday, an attorney for the U.S., Clair Dobbin, reminded the court that Assange spent seven years in the Ecuadorian embassy rather than face questioning in a sexual assault probe and that countries, including Mexico, have already offered him asylum to save him from facing the American charges.
"There are no conditions that can guarantee his surrender," Dobbin said. "The history of his attempts to evade extradition to the U.S. shows he is capable of going to any length."
She said the U.S. is preparing its appeal, and indicated the attorneys would argue that the judge didn't properly apply the correct legal test when determining that Assange's mental health meant he shouldn't be extradited. They now have 12 days to lodge the appeal.
Assange's lawyers had argued that Baraitser's ruling "changes everything" and proposed bail conditions that included house arrest and an electronic tag to track his movements.
His lawyer, Edward Fitzgerald, said that if granted bail, many of Assange's celebrity friends were willing to put up financial guarantees. Tracy Worcester, the Duchess of Beaufort, has provided a house for Assange's fiancée and two children and a bail guarantee of 10,000 pounds ($13,600), Fitzgerald said.
Assange's fiancée, Stella Moris, said the decision to deny bail was a "huge disappointment" and repeated her plea to U.S. President Donald Trump to offer him a presidential pardon.
Fitzgerald tried to dismiss Mexican President Andres Manuel Lopez Obrado's offer of asylum, saying that it was "clearly" going to come into affect after legal proceedings had been concluded.
The judge was unconvinced and said if Assange were to abscond again, it would frustrate the ongoing U.S. appeal.
Assange wore a disposable face mask and dark navy suit as he sat in the room at Westminster Magistrate's court on Wednesday.
Fitzgerald said that Assange, who has been a high-profile figure for more than a decade, wants to live a "sheltered life."