JPMorgan Compares the Recent Crypto Plunge to 2017
JPMorgan Compares the Recent Crypto Plunge to 2017
(Bloomberg) -- I wrote on Sunday that the violent action in crypto bore some resemblance to the market peak in December 2017-January 2018. Since then we've seen a bit of a rebound, although the big coins are still well off their recent highs. Here's Ethereum: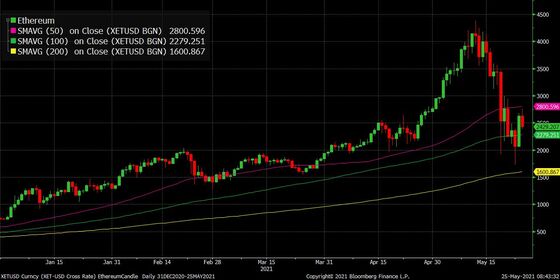 In a fresh note out last night, JPMorgan Chase's head of interest-rate derivatives strategy Josh Younger (who has been writing a lot about crypto lately!) published a note getting at the same idea, that this market bears a resemblance to that peak.
Here are two charts showing that nicely. The second one, the seemingly parabolic rise of the non-blue chip cryptos, is particularly powerful in that it offers a very clear indication of the animal-spirits cycle. As the boom goes on, traders make bets on riskier and riskier stuff.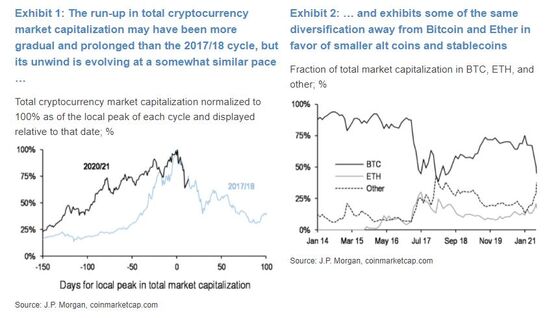 However, Younger notes differences as well. For one thing, the market volatility seems primarily to be a North America phenomenon this time around, with prices much more stable in Europe and Asia. He also notes that while market depth has fallen in the recent liquidations, the markets remain healthy overall.
We continue to see evidence of resilient microstructure in cryptocurrency markets: the volatility spike appears somewhat regionally localized, market depth is down but has not cratered despite these moves, and derivatives pricing has managed to adjust quickly enough to retain a decent fraction of the levered long base. This all argues against the view that we are in the midst self-reinforcing vicious cycle of price declines—a classic run scenario.
This is really the key question right here. As many people have pointed out, the crypto market is highly reflexive. Historically when prices go up, they go up fast because everyone wants in. And when prices then go down, they go down fast and stay down because people don't want to hold the stuff or buy the stuff if the line isn't going up. It seems plausible that, with greater institutional ownership and perhaps a greater number of true believers, this bout of selling won't beget selling the same way it did in the past. Plus we've seen crypto continue to not die, despite a million obituaries having been written.