Johannesburg Stock Market Opens 5 Hours Late After Trading Surge
Johannesburg Exchange Says Trading Delayed After Record Volumes
(Bloomberg) -- The start of equities trading on South Africa's main stock exchange was delayed by hours Wednesday after the bourse struggled to process record transactions in the previous session as investors adjusted their holdings in local market giant Naspers Ltd.
Naspers, the largest investor in Tencent Holdings Ltd., dominated trading in Johannesburg Tuesday, falling 8.1% on surging volumes as money managers adjusted their portfolios following the company's share swap deal with unit Prosus NV. The exchange couldn't cope with the volumes, causing the glitch that delayed local investors' opportunity to react to Tencent's earnings as they were released in Hong Kong.
Tuesday saw 145 billion rand ($9.7 billion) of equities traded, which caused "significant delays" in processing on some systems, bourse operator JSE Ltd. said. Full dealing started at 2:30 p.m., compared with the usual opening of 9 a.m.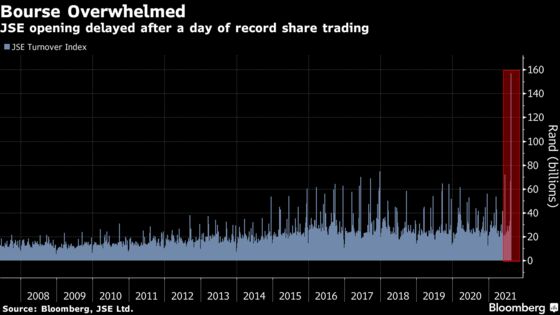 The Naspers-Prosus deal changed the weighting of the two stocks in key South African equity indexes, pushing money managers who follow the gauges to adjust their portfolios.
"Because Naspers now has a smaller weighting in the JSE's indices, and Prosus has a bigger weighting, index-tracking funds would have had to sell their Naspers holdings and buy Prosus shares to keep their portfolios in line with the new weightings," said Lester Davids, a strategist at Unum Capital. 
Naspers now accounts for 6.3% of the benchmark FTSE/JSE Africa All Share Index compared with 12% as of Tuesday, data compiled by Bloomberg show. Prosus has jumped to 7.8% from 0.9%.
Naspers Share Swap Pressures Rand: Inside South Africa
Naspers holds a 29% stake in Tencent through Prosus, which climbed as much as 6% in Amsterdam before ending 1.9% higher. The main South African index closed the abbreviated session 1.5% lower, with Naspers rallying 4.1%.
The JSE apologized "for the inconvenience caused" and said its other markets were operating as normal. JSE Ltd. shares rose 1.3% on the day.
Tuesday's trading surpassed a previous record of 71 billion rand from December 2017, the exchange operator said. In 2017, the JSE paid out claims from clients and conducted reviews after technical issues prevented equities and derivative trading for an hour and 45 minutes.
"The JSE team is working on corrective action to ensure that this doesn't occur in the future," JSE Chief Executive Officer Leila Fourie said in an emailed letter to market participants after market close. "System stability and resilience remain a top priority for the JSE and we continue to invest to improve our market availability."