Italy May Propose 2% Deficit Target in European Union Talks
Italy to Propose New Fiscal Targets to European Union Wednesday
12 Dec 2018, 11:56 PM IST
(Bloomberg) -- Italy's populist government may propose a 2 percent fiscal target for next year to the European Union, a sign that weeks of clashes between Rome and Brussels over the country's spending plans could be winding down.
Prime Minister Giuseppe Conte will present the new numbers to EU Commission President Jean-Claude Juncker in Brussels on Wednesday evening, according to a spokesperson for Conte's office. The proposal to the EU was discussed at a meeting between the premier and the key ministers working on the budget.
A Treasury official said the deficit target will be 2 percent, well below the figure the government had initially proposed. An official at the prime minister's office declined to confirm the number.
Italian bonds extended earlier gains after Bloomberg reported that the government may propose a 2 percent fiscal target, with the yield on 10-year bonds dropping below 3 percent for the first time since September. The euro briefly spiked on the report.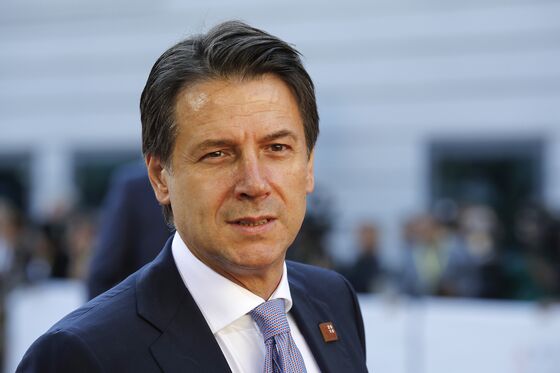 The mood among the ministers is "positive," and Conte will present "good arguments" to Juncker to try to reach agreement on Italy's budget plans, the official said.
The ruling coalition of the rightist League and the anti-establishment Five Star Movement has been locked in a tussle with Brussels over its proposed budget deficit level of 2.4 percent for next year, which has been rejected by the European Commission.
While the EU has insisted it will sanction Italy if its budget doesn't comply with spending rules, the leaders of the coalition's two parties have said in recent days they're not ready to compromise on electoral pledges including pension reform and a guaranteed income for the poor.
Even a deficit of 2 percent may still not be low enough to avoid EU sanctions. It could however increase tensions between Deputy Premiers Matteo Salvini of the League and Luigi Di Maio of the Five Star who will have less money to divvy up for their costly promises to voters.
The League got only 17.4 percent of the vote in March's general election, well behind Five Star's 32.7 percent. But since the two parties took office on June 1 the League has overtaken Five Star to become the country's biggest political force with around 32 percent support in recent polls, compared to 29 percent for Five Star.
Italian newspaper La Repubblica reported on Wednesday that Salvini may be seeking early elections next year to try to govern without Five Star. Salvini later denied the report.
The social unrest taking place in France may give Conte new ammunition to use during the talks in Brussels. Promises by French President Emmanuel Macron, unveiled Monday night and which may lead to increased spending, could give the Italian premier leverage to ask Brussels for more leeway. Macron's plan may push France's deficit to 3.5 percent, according to initial estimates.
Italy has periodically complained that Paris gets special treatment when the EU Commission is assessing budgets.
"I am tired of some being able to break the rules, while Italy is put under a magnifying glass over 0.1 percent variations," Salvini was reported as saying by Ansa.
Salvini and Di Maio have both expressed solidarity with France's grassroots demonstrators, and pledged to prevent any social unrest in Italy by delivering on what they promised.
EU Economics Commissioner Pierre Moscovici said in an interview with Le Parisien that any comparison of France's budget situation with Italy's is "erroneous" because Italy's high debt levels have been under surveillance for years.
--With assistance from John Follain, Richard Bravo and Jerrold Colten.
To contact the reporters on this story: Lorenzo Totaro in Rome at ltotaro@bloomberg.net;Chiara Albanese in Rome at calbanese10@bloomberg.net
To contact the editors responsible for this story: Alessandra Migliaccio at amigliaccio@bloomberg.net, ;Ben Sills at bsills@bloomberg.net, Jerrold Colten
Get Your
Daily Newsletter
Get market moving news, top news & compelling perspectives
---