Italy's Tria May Quit Over Budget, Central Banker Warns on Debt
Italy's Tria May Quit After Budget Approval, Messaggero Says
(Bloomberg) -- Italian Finance Minister Giovanni Tria was "embittered" by the budget discussions and may quit after the package is approved later this year, newspaper Il Messaggero reported without saying where it obtained the information.
The rancorous talks resulted in a budget deficit target of 2.4 percent of output for 2019 rather than the 1.6 percent Tria had reportedly been seeking. Five Star Movement leader Luigi Di Maio and League leader Matteo Salvini insisted that Tria had to raise the target.
The reported threat by Tria came as Ignazio Visco, head of Italy's central bank, warned the country's leaders to take steps to reduce a crushing debt burden, and Italian President Sergio Mattarella stressed the need for a balanced budget and a sustainable public debt.
"This is to safeguard the savings of our citizens, the resources of families and businesses, to defend pensions, and to make possible concrete and efficient social support," Mattarella said at an event in Rome.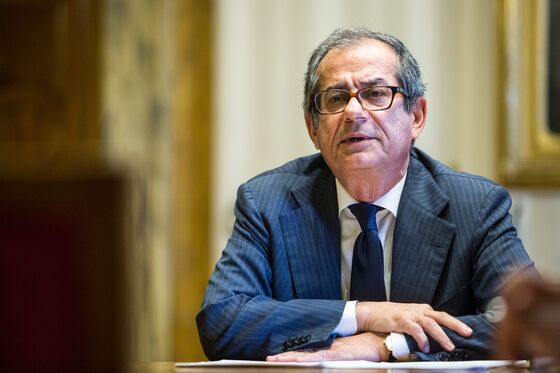 Italy's stocks and bonds came under intense pressure on Friday, the day after the government's plan was announced. Markets have been rattled by previous reports that Tria might resign, as he is seen by investors as a steadying influence over the populist leaders' spending plans.
"The idea that Tria shared with his close colleagues yesterday is to wait for the budget approval by Parliament, according to the wishes of the Deputy Premiers Di Maio and Salvini, and then to leave," Messaggero said.
The newspaper La Repubblica also reported that Tria may quit after the 2019 budget approval, while newspaper Il Sole 24 Ore said the government will target growth of at least 1.5 percent in 2019. The government has still not released full details of its budget plans.
However, Di Maio said "Giovanni must stay on" as finance minister, in a Sky Tg24 television interview broadcast Saturday. "We still support Giovanni Tria," Di Maio added, while staunchly defending the government's economic program.
He also highlighted the government's plan for 15 billion euros ($17 billion) in investments.
He said the budget plan isn't designed to challenge the European Union and that the country will become more favorable for foreign investors.
"We will boost growth with investment, and with growth we'll lower the debt," Di Maio said in the interview.
Christoph Rieger, Commerzbank's head of fixed-rate strategy, said the budget compromise at the high end of the range that had been talked about before "has demolished Tria's credibility."
"This underlines the balance of power within the government, and having a lame duck finance minister in this situation will require a higher risk premium," Rieger said Friday.
--With assistance from Anchalee Worrachate.
To contact the reporters on this story: Kevin Costelloe in Rome at kcostelloe@bloomberg.net;Maria Ermakova in Milan at mermakova@bloomberg.net
To contact the editors responsible for this story: Fergal O'Brien at fobrien@bloomberg.net, Neil Chatterjee, Steve Geimann
Get Your
Daily Newsletter
Get market moving news, top news & compelling perspectives
---